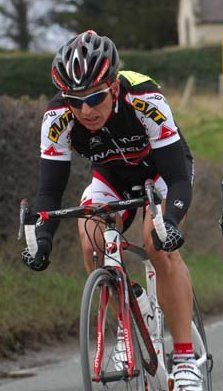 PREMIER Calendar Series leader Russell Downing crashed while racing in Norway on Sunday and has broken his wrist.
The Pinarello RT ace crashed after around 50 kilometres of a 140-kilometre event, but climbed back on his bike and continued to finish an eventual fourth. His team-mate Malcolm Elliott was fifth.
But he was whisked off to the hospital as soon as he crossed the line, and said afterwards: ?I?ve just got back from the hospital, and they?ve put a full cast on my arm. I?ve got two broken bones in my hand.
?I knew I had done something straight away, but carried on to the finish. Hopefully I?ll be able to carry on riding - we?ve got a stage race out here which starts on Wednesday so I?ll just have to see how I do.
?The doctors couldn?t say how long I?ll have the pot on for. It just depends how things heal, but hopefully it won?t slow me down too much.?
Thank you for reading 20 articles this month* Join now for unlimited access
Enjoy your first month for just £1 / $1 / €1
*Read 5 free articles per month without a subscription
Join now for unlimited access
Try first month for just £1 / $1 / €1