Eddy Merckx magic moment - 1974 world championships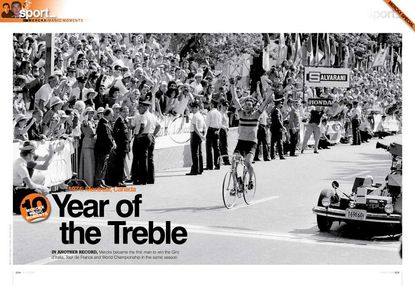 In the January 2005 edition of Cycle Sport we put together ten magic moments from Eddy Merckx's career. One of those was his world road race championship win 1974.
Eddy Merckx interview from 2005 Cycle Sport
Eddy Merckx's expression betrayed relief rather than jubilation as he gave the champion's salute at the end of the 1974 World Road Race Championship on Montreal's Mount Royal circuit.
Completing the Giro/Tour/Worlds treble was a vindication for Merckx, who was still smarting from his defeat in the previous year's Worlds in Barcelona.
Merckx had finished fourth in a four-man sprint on Barcelona's Montjuich circuit, and swore that his Belgium team-mate Freddy Maertens had betrayed him, allowing Italy's Felice Gimondi to take the title. Maertens in turn accused Merckx of selling the race to Gimondi.
The 1973 season ended on a flat note for the Belgian. Illness ruled him out of the Tour of Lombardy and a track crash in November left him in plaster for six weeks. There were more setbacks early in 1974. A bout of bronchitis blunted his early-season form and he failed to win any of the spring Classics. However, he took the Giro d'Italia for the fifth time, holding on to beat Gibi Baronchelli by just 12 seconds.
Fifth tour victory
A cyst in the saddle area troubled him throughout the Tour de France. Despite this, he achieved a record-equalling fifth victory, beating Raymond Poulidor into second place by over eight minutes.
Although he reigned supreme in the Grand Tours, Merckx admitted he was showing signs of mortality, and vowed that his days of tackling two big stage races in one season were over. So victory at Montreal had a special significance for the 29 year old, who had gone into the World Championships without a major single-day win in the 1974 season.
"That's what made this title special," he said only moments after victory. "After all the troubles I've had, I get the Tour de France and now the world title for the third time.
For once, there was harmony in the Belgian camp - Merckx and Maertens even went training together. But Merckx insisted they had made no pact on teamwork. "We'll sort things out on the road," he said.
Big loser of the 1974 championship was France's Bernard Thévenet, who in 1975 would cause Merckx much grief in the Tour de France. Thévenet was the hero of the 150,000-strong crowd, with a lone break of nearly 100 kilometres, which ended on the last climb of Mount Royal. Powerfully attacking the climbs, Thévenet opened a lead of 2-30. Behind, Merckx was flaying the bunch into action and making his own selection of the elite to mount an effective chase.
Maertens and Herman Vanspringel were with him for Belgium; Jean-Pierre Danguillaume, Mariano Martinez and Raymond Poulidor for France, and Giovanni Battaglin, Francesco Moser and Giovanni Santambrogio for Italy.
With two laps of the 21-lap race to go, Thévenet's lead was down to 2-05. Further back, defending champion Gimondi was one of four Italians who retired, to watch Merckx take his title from the stands.
On the penultimate climb of Mount Royal, Thévenet was suffering. He was down to running pace. Onlookers squeezed sponges on his neck as he ground round the pedals. Battaglin and Moser were shaken off the chasing group by a fierce Merckx attack. The Belgian was relieved to be rid of Moser, a second-year pro and rising star of Italian cycling, who would have been a threat in a sprint finish. "I heard Moser shout to Santambrogio to take it easy, and realised that the man I was worried about was in trouble," said Merckx.
Thévenet forced himself over the University climb, but was a beaten man. At the bell he was a scant 36 seconds ahead of the chase group, led by Merckx, who looked ready for the kill. It came on the final climb. When Merckx led his small group past the shattered Frenchman, Poulidor could do nothing to help his team-mate hang on.
"It hurt me to pass him, but there was nothing I could do," he said.


Descending on poulidor
Now Merckx, Poulidor, Santambrogio and Martinez - father of the future mountain bike champion Miguel - were the only ones in contention. Three hundred yards from the top of the climb, Poulidor made his effort, gaining six lengths. Then Merckx sprinted the long sweeping descent and closed the gap on the Frenchman. That made it two for the sprint. "Once he was with me, I knew it was over," said Poulidor. "Merckx is Merckx. I had no chance against him."
Poulidor led out the sprint. Merckx accelerated from 200 metres out and his third world title was in the bag. Poulidor took the silver and Martinez the bronze.
The year 1974 was a turning point in the career of Eddy Merckx. For the first time since 1965 he failed to win a Classic. Although he achieved the Tour-Giro double for the third time, plus the world title, he would never again win a major tour or a championship.
Although he was only 29, a decade of being the world's top cyclist had taken its toll.
Thank you for reading 20 articles this month* Join now for unlimited access
Enjoy your first month for just £1 / $1 / €1
*Read 5 free articles per month without a subscription
Join now for unlimited access
Try first month for just £1 / $1 / €1