Eddy Merckx rates tough Qatar World Champs course
Cycling legend Eddy Merckx says that windy conditions and a technical course will make the 2016 World Championships in Doha, Qatar, a spectacle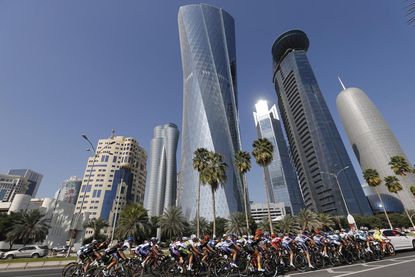 (Image credit: Yuzuru SUNADA)
Wind, echelons and splits could define the 2016 World Championships in Doha, the first in the Middle East, explained Eddy Merckx.
"I don't make the weather, but you have much more wind here in Qatar than you'd find in Europe," Merckx said.
"The 2002 Zolder Worlds had nothing, no wind, no climb, nothing. But if you have wind in Qatar... ha! You saw what happened with the women's race on stage two with splits and echelons, and last year, the Tour of Qatar had stages with averages of more than 50km an hour."
>>> Tour of Qatar 2014 stage four: the fastest road race in history?
The cycling great co-owns the Tour of Qatar. He helped the local organising committee win its worlds bid and designed the course, which the national federation partially unveiled yesterday in the capital city.
The time trials are based around Katara to Doha's north. The Under 23, elite men and women road races will cover an 80-kilometre loop to the west and north before completing laps of a circuit in Doha. The 19-kilometre circuit starts and ends in Doha, travels north through Katara over smooth city cobbles and through The Pearl district.
"On the big lap, when you are in the desert, coming back on small roads, that will make it very exciting and can also make the decision. Big names could eliminated already in the first 80 kilometres. If you have wind, a flat tyre at a bad moment, with the wind, you can forget it," Merckx continued.
>>> Eddy Merckx presents 2016 Doha World Championships course
"On the small circuit, it's not straight, you don't have five kilometres of straight roads. In 19 kilometres, we have many turns, and that will make it very exciting. You will have wind coming in from the side, from the front. With a big peloton through the many turns, it'll be hard. But you don't know, you can't say beforehand. Like I said, I don't predict the weather."
Due to the extreme Arab summers and the 2016 Olympics, the Worlds will move back two weeks from September to October 9-16. Merckx added that in that time of the year, it rains. He noted the time when he was in Qatar for the 2006 Asian Games' opening ceremony and for a meeting last October.
"The course will be good for the Belgians, good for the sprinters and classic riders... Especially, two months after the Olympics, and there will be other riders. I don't think the sprinters will prepare for the Olympics, they will have no chance, but they will prepare for the World Championships."
Thank you for reading 5 articles this month* Join now for unlimited access
Enjoy your first month for just £1 / $1 / €1
*Read 5 free articles per month without a subscription
Join now for unlimited access
Try first month for just £1 / $1 / €1