Everesting Swain's Lane: 134 times up the 18% climb (videos)
A cyclist in North London took on the challenge to raise awareness of his charity, Only Connect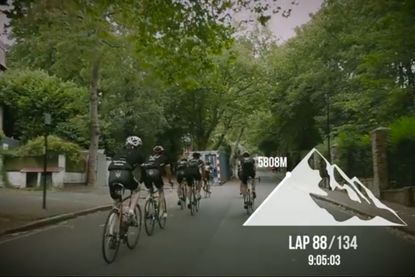 Everesting Swain's Lane: The Ascent
Two new films have been released showing the preparation and execution of an attempt to climb the equivalent of Mount Everest on Swain's Lane in North London.
'Everesting' is a relatively new phenomenon where riders aim to ascend a total of 8,848 metres, the height of Mount Everest, in one ride (rest stops permitted!).
>>> Everesting on Alpe d'Huez… on a Raleigh Chopper
Attempts have been made all over the country, notably on Box Hill in Surrey and Cheddar Gorge in Somerset.
Everesting Swain's Lane: The Preparation
Mat Ilic set about the challenge back in 2014 to raise awareness for his charity, Only Connect. The charity works in a crime prevention capacity in London and aims to provide training and support to young people.
>>> 13 Tour of Britain climbs to conquer on Strava
Helping people turn away from crime, Only Connect says it wants to make these peripheral young people "assets rather than liabilities".
Ilic also wanted to show what a rider must go through to plan, prepare and conquer an endurance challenge on this scale. His chosen hill was Swain's Lane, in Highgate, North London.
Now, thanks to the films the rider made with Gorilla Face Prodcutions and Wodehouse, we too can get an idea of what it takes to achieve something as gruelling as an Everesting challenge.
Thank you for reading 20 articles this month* Join now for unlimited access
Enjoy your first month for just £1 / $1 / €1
*Read 5 free articles per month without a subscription
Join now for unlimited access
Try first month for just £1 / $1 / €1