Floods hit worlds road race course in Australia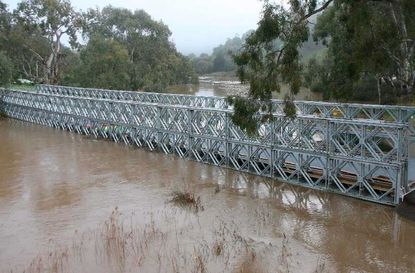 Heavy rain has caused flooding on parts of the world championships road race route in Geelong, in southern Australia.
The temporary bridge that spans the Barwon river is almost underwater after a weekend of heavy rain in the region. The road that takes the riders away from the bridge is underwater as is another section of road on a different section of the route.
According to the Geelong Advertiser, Melbourne 2010 general manager Michael Palmer said that rising waters had never occurred to them and that an alternative route would have to be found if the floods happened again during the event.
The world championships start on September 29, just 21 days, with the men's under-23 time trial. The women's road race is on October 2, with the men's road race on October 3.


The road coming off the temporary bridge is almost completely underwater.


The Barwon river at a dangerously high levels.
The temporary road bridge, along with rainbow stripes across the middle, is almost underwater. All pictures courtesy of Geelong Advertiser (www.geelongadvertiser.com.au)
EXTERNAL LINKS
Thank you for reading 5 articles this month* Join now for unlimited access
Enjoy your first month for just £1 / $1 / €1
*Read 5 free articles per month without a subscription
Join now for unlimited access
Try first month for just £1 / $1 / €1