Froome hails best squad in Sky's five-year history
Speaking at Team Sky's winter training base in Majorca, Chris Froome confirmed that the Tour de France will be his priority for 2015 and cast doubt on Albert Contador's prospects of winning the Giro d'Italia-Tour double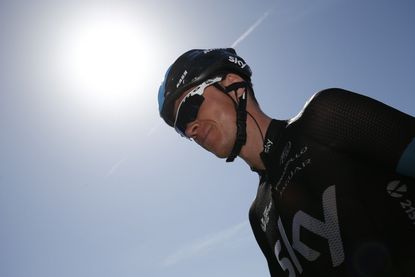 (Image credit: Yuzuru SUNADA)
When the Tour de France route was announced, Chris Froome considered riding the Giro d'Italia instead. "But given where I am right now in my career, given that I am 29 and coming into my best years, and given that the Tour de France is the biggest race for us, it would be a loss to miss it," he explained.
"Having said that, the Giro this year is a great route for me. I would have liked to have been there, but if you're realistically looking to win both, it's a big ask."
Alberto Contador has said that he will ride both. "I'd say he's set himself a very difficult task," said Froome. "It's not impossible and Alberto is the rider who knows how to do it. He's been winning these races since 2007, so he knows how to get himself ready for a race like the Tour de France. I know how hard it is to do two Grand Tours back-to-back, and go for the win, so my priority remains the Tour."
Froome and Contador went head-to-head in last year's Vuelta a España, with Contador coming out on top. The Spaniard recently described Froome as his top rival, which Froome said was a "very nice compliment". The sentiment is reciprocated: "He is my biggest rival, and last year's Vuelta is still very fresh in my mind, how strong he was after his very serious injury [Contador also crashed out at the Tour].
"I was happy to have that race in the mountains," Froome continued: "it was mano a mano, and good for everyone: it's what fans and organisers want."
This year, Froome added, he will be supported by the best team assembled in Sky's five-year history: "I would say we're starting with the strongest roster we've ever had on Team Sky."
One person missing from the roster will be Sir Bradley Wiggins, who in April will join his own set-up, Team Wiggins, to focus on the Rio Olympics. It will spare Froome the question that has dominated the build-up to the last two Tours: can he and Wiggins, with whom he has a fractious relationship, ride together? Is that a relief? "I wouldn't put it like that," said Froome.
"Bradley and I, as it stands, we are going on very different paths — Bradley has chosen to return to the track. My ambitions remain with Team Sky, focused on stage races and Grand Tours. I wish him all the best with his future on the track and the new development team."
Brailsford lays out team's new road map
They set out in 2010 with a five-year plan to win the Tour de France and this week, on Team Sky's fifth anniversary, Sir Dave Brailsford shared his plan for the next half-decade with a clear aim: "To become indisputably the best cycling team in the world."
That means, said Brailsford, winning the Tour de France again but also, for the first time, a one-day Classic. "We've had a good first five years," said Brailsford, "but where do you go from there? We have to get better and we'd like the second five years to be better than the first.
"There's an opportunity in the Classics. We have to get one on our palmarès. We want to become a more complete team."
Another aim in 2010 was to inspire a million more people to ride bikes, and Brailsford said phase two of this ambition is to "turn them into real bike fans". He explained: "There were millions of spectators at the Grand Départ [of the Tour de France] in Yorkshire, but how do we turn them into real fans?" One way to engage, he added, could be innovation in "technology and human performance, that's where the cutting edge is".
Recalling the "baptism of fire" of the team's debut, Brailsford could reflect on three years of steady — and at times dramatic — improvement up to 2013. He admitted that last year was a disappointment, but said that was "necessary to get to where we are now".
Brailsford continued: "Our challenge is to stay ahead of the game and this winter we spent some time thinking about that and asking ourselves the question: what is it that we enjoy? We all came to the conclusion that we like development and improving — the winning is the outcome, but the striving is what really motivates us."
While riders have come and gone the staff has remained fairly constant, which Brailsford said has created a problem: "We work together well, we have a lot of fun, but you get aligned." It has meant less debate and fewer disagreements so Brailsford looked this winter for new staff members to "provoke" and settled on someone he knows well — Simon Jones, the new head of performance science. "Simon worked at British Cycling then went off to Australia, where he learnt a lot and built up a great network of contacts — and now he has come back to challenge us."
Thank you for reading 10 articles this month* Join now for unlimited access
Enjoy your first month for just £1 / $1 / €1
*Read 5 free articles per month without a subscription
Join now for unlimited access
Try first month for just £1 / $1 / €1