GHENT-WEVELGEM FACES RADICAL CHANGES IN 2008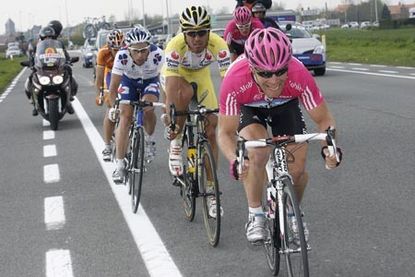 The organisers of Ghent-Wevelgem have announced that the route of the mid-week Classic will be changed this year. Following the numerous accidents of 2007 on the descent of the Mont Kemmel, the climb will be tackled the other way round.
40 kilometres from the finish and tackled twice, traditionally the Kemmel plays a decisive role in the race - in 2007 it served as the springboard for eventual winner Marcus Burghardt (T-Mobile, now Team High Road) to move across to a break containing British team-mate Roger Hammond. After one of the most epic finales to Ghent-Wevelgem in recent history, the two finished first and second, outwitting and outsprinting no less a star than three-times World Champion Oscar Freire as well as a Quick Step driven bunch.
?Wiping out the Kemmel completely was never an option.? recognised race director Hans de Clercq. ?In many ways, Ghent-Wevelgem is the Kemmel. But we?ll make it safer by going up the other way.?
The effects on the route of this change will be that half-way up the Monteburg climb, the riders will turn towards the village of Kemmel and start the climb there. There will be a one kilometre rise of four percent before hitting the pavés themselves.
The descent will be considerably less steep and longer. Not only that, just after the summit a tarmacked stretch of road has been included, with a sharp bend after 300 metres of descending. Again, this should, so the organisers say, reduce the risk of crashes.
As if to compensate slightly for the slightly easier route, the organisers have changed other segments of the route. Prior to the Kemmel, the race will pass through the villages of Torhout, Ichtegem, Koekelare and Kierken, and have two kilometres of pave - the Steenstraat - to tackle en route to the Kemmel. ?This should ensure a smaller bunch for the climb.? De Clercq added.
The effects on the race should be that the bunch will reform much more quickly after the Kemmel. It will be therefore tougher for a break like Hammond?s to stay away for the entire duration of the course and make it more likely to end in a sprint of 60 or so riders - as has often been the case in Wevelgem in the past. This could be good news for Hammond?s High Road team-mate Mark Cavendish, however, who is due to race Ghent-Wevelgem this April.
Thank you for reading 20 articles this month* Join now for unlimited access
Enjoy your first month for just £1 / $1 / €1
*Read 5 free articles per month without a subscription
Join now for unlimited access
Try first month for just £1 / $1 / €1