Google plays tribute to the Giro d'Italia, but doesn't seem quite sure what it is
Look forward to three weeks of pulling tricks across desert landscapes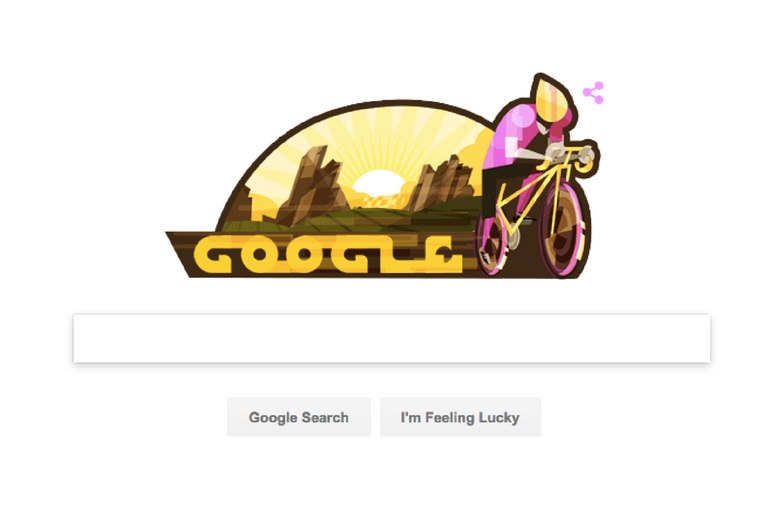 If you're just logging on to your computer this morning, then you might be looking forward to stage one of the Giro d'Italia, but a little confused as to why Google's front page is dominated by an animation of some riders jumping across a desert.
Believe it or not, this is Google's slightly strange tribute to the 100th edition of the Giro d'Italia, presumably created by someone with a very loose grasp of what the Giro actually is.
>>> Giro d'Italia 2017 route: maps and elevation for every stage
First off you've got the giant pink cyclist at the side of the doodle, sporting fetching pink tights and riding a yellow bike that seems to have been drawn by someone who hasn't seen an actual bike for a very long time.
Watch: Giro d'Italia stages 1-9 preview
But the weirdest thing about it is the landscape in the background, with the artist apparently basing their assumptions of the Italian landscapes from spaghetti westerns, with desolate plains and a harsh desert sun.
>>> Giro d'Italia 2017's toughest climbs
Crossing this landscape is a small peloton of riders (presumably led by Clint Eastwood) before Google loses all connection with what the Giro might possibly entail as a rider climbs one of the outcrops in the background, before swooping down and catching some serious air.
It all looks very exciting, but might leave new viewers of the Giro a little confused (and probably disappointed) when they tune in to watch stage on this afternoon.