Government's cycling and walking strategy needs funding to be a success, says Chris Boardman
Chris Boardman, British Cycling and the CTC call for the government to increase spending on cycling and walking from the draft Cycling and Walking Investment Strategy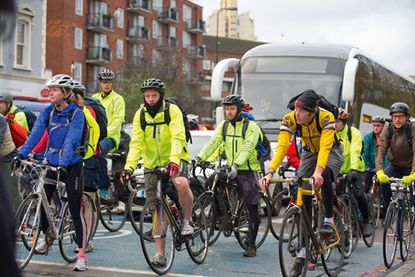 The government's Cycling and Walking Investment Strategy will require sustained funding if it is to be successful, according to British Cycling and the CTC.
Having passed a law in July 2015, the government is now legally required to set out a strategy that details the financial resources that will be made available to promote cycling and walking as a mode of transport.
But, says British Cycling, the government's draft strategy falls short of the recommendations of Parliament's 'Get Britain Cycling' report, which called for an initial £10 per head annually to be invested.
The draft Investment Strategy has set aside just £300m over a five-year period, which amounts to just £1.39 per head outside London.
British Cycling policy adviser Chris Boardman said: "The Department for Transport has done some good work on cycling and walking, including developing processes to make it easier for local authorities to create infrastructure plans and identifying funding pots that could be used.
"But these are just baby steps. Far more ambition is needed if we have any hope of creating a cycling and walking culture to rival countries like Denmark and the Netherlands, let alone the government's own modest targets.
"The truth is that without sustained funding, this strategy won't be worth the paper it's written on. We know that when faced with other priorities like road maintenance, saving bus routes and new housing developments, cycling and walking will be put at the bottom of most councils' to-do lists."
>>> 'Cycling is our best hope against obesity'
The CTC and British Cycling have listed five things they want to see come from the draft Investment Strategy:
Funding of at least £10 per head per year (£530 million in England), rising to £20.
A comprehensive plan of how the targets, objectives and ambitions of the strategy will be achieved.
A definitive, nationally-adopted design guide for cycling and walking infrastructure.
A framework for assessing progress in delivering the strategy.
Independent governance to challenge and support the strategy.
>>> Chris Boardman appeals to Transport Secretary for cycling funding
CTC's policy director Roger Geffen said: "Despite its laudable aim to normalise cycling and walking by 2040, this strategy's draft targets suggest that, outside London, English cycle use would eventually reach Dutch levels by the start of the 23rd century, while its funding allocations mean even slower progress.
"If ministers are serious about their stated aims, they need to reallocate some of their £15bn motorway and trunk road budget towards cycling and walking. That could help tackle congestion, pollution, physical inactivity and climate change, whereas roads spending will do the precise opposite.
"Ministers need to invest in cycling to overcome congestion, pollution, physical inactivity and climate change, not make them worse."
Thank you for reading 20 articles this month* Join now for unlimited access
Enjoy your first month for just £1 / $1 / €1
*Read 5 free articles per month without a subscription
Join now for unlimited access
Try first month for just £1 / $1 / €1