Greg LeMond: If there's anybody who deserves a life ban, it's Armstrong
Three time Tour de France winner LeMond rejects notion of reducing Lance Armstrong's lifetime ban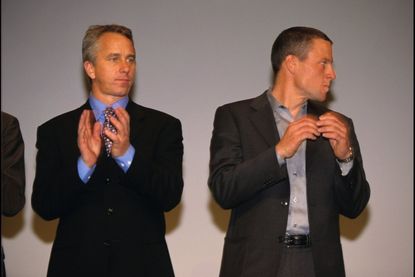 (Image credit: Graham Watson)
Greg Lemond has dismissed the notion of reducing Lance Armstrong's lifetime ban from cycling, saying that "if there's anybody who deserves a ban, it's this guy."
The three-time Tour de France winner was speaking to the media at the Tour Down Under where he was asked about Armstrong, who LeMond has consistently accused of trying to tarnish his reputation as part of the cover-up of the use of performance enhancing drugs.
"We had a decent relationship," said Lemond, "but since 2001 we've not had any relationship. I'm not one that holds a grudge but I'm also realistic with who I'm dealing with and he's not really shown any remorse for what he's done."
"That's not about doping but about what he's done to people's lives, destroyed them. He took a good 10 years out of my life.
"Cycling was my life and it was a major attempt to make sure that I was excluded from it. Even from the Tour de France at one point."
LeMond remains the only American to have won the Tour, after Armstrong had his seven titles stripped after a USADA investigation in 2012. The Texan later admitted to systematic doping throughout all of his Tour wins in a televised interview with Oprah Winfrey in January 2013.
And Lemond says that it was more than the doping in the Armstrong case that earned him his lifetime ban, that has stopped him from riding in recent amateur cycling events including the Gran Fondo Hincapie.
"If anyone deserves a life ban…. Ben Johnson got a life ban in 1988 and relative to that he wasn't involved in the conspiracy to cover up stuff. I don't think there's ever been a cyclist who has ever been involved in that level of deception. It's unfortunate," said Lemond.
"What's the point, so he can race amateur races?" he said when asked if Armstrongs ban should be reduced.
"He can do his own races. If there's anyone who deserved a ban it's this guy. Otherwise what's the point in rules?"
Thank you for reading 20 articles this month* Join now for unlimited access
Enjoy your first month for just £1 / $1 / €1
*Read 5 free articles per month without a subscription
Join now for unlimited access
Try first month for just £1 / $1 / €1