Hammond riding to win at Ghent-Wevelgem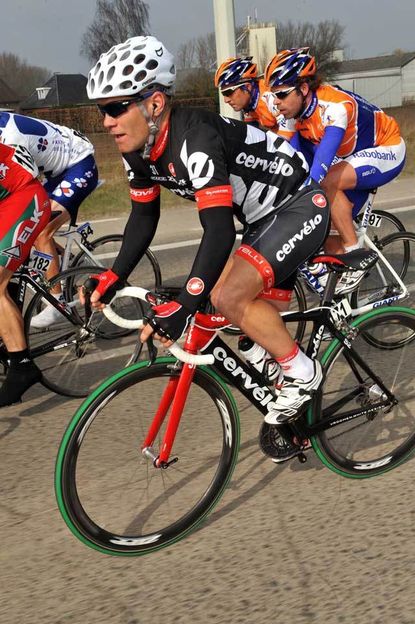 Roger Hammond, Jeremy Hunt and Daniel Lloyd will all ride Ghent-Wevelgem on Wednesday as Cervelo look to finally land a big classic.
Cervelo has been the revelation of the classics so far this season, going shoulder to shoulder with Quick Step and Columbia. Heinrich Haussler was beaten by Mark Cavendish at Milan-San Remo and jumped away to get second at the Tour of Flanders but things could finally go their way at Ghent-Wevelgem.
Along with the three Brits in the tight-fit black Cervelo jerseys are Haussler, Andreas Klier, tough Aussie Brett Lancaster, Gabriel Rasch and Dominique Rollin (nick-named the 'Horse' because of his ability to work hard all day for the team).
Lloyd replaced Thor Hushovd in the team?s line-up after the big Norwegian injured his finger when he was taken out of the sprint at the end of the Tour of Flanders.
Lloyd was set for a rest but his strong ride in the break at Flanders means his impressive sprint continues a little longer. Hushovd will be back in the team for Sunday?s Paris-Roubaix.
HAMMOND: IF I?VE GOT THE LEGS, I?LL GO FOR IT?
Roger Hammond is already thinking of Paris-Roubaix ? the biggest race of his season, but as ever he will start Ghent-Wevelgem on Wednesday with the aim of winning.
?I don?t save things for Roubaix because you never known what can happen,? he told Cycling Weekly after recovering from his solid ride at the Tour of Flanders.
?I always ride every race with the objective of getting a result because you can get some idiot from Bouygues Telecom overtaking you on the inside of a corner and you crash, break your scaphoid and your race can be over.?
Hammond is referring to last year?s Paris-Roubaix when French rider Rony Matias brought him off and left the Briton with a suspected fractured scaphoid.
In 2007 Hammond finished second behind T-mobile team mate Marcus Burghardt after being in a long breakaway that held-off the sprinters.
He has been struggling to throw off a viral infection in the last couple of weeks but revealed that he finally felt he had his ?racing legs? back on Sunday.
?I?d be happy to win. It?s a nice race and if I?ve got the legs I?ll go for it,? Hammond said.
?They?re predicting a lot of wind, so it should be a harder race than last year. I went pretty deep at the Tour of Flanders and there?s only two days to recover but I?m not writing it off and we?ll see if I?m up there.?
If there is no sprint finish for Mark Cavendish, Hammond could finally get the big win he deserves and follow on from Barry Hoban ? Britain?s last winner in 1974.
RELATED LINKS
Ghent-Wevelgem 2009: The Big Preview
Ghent-Wevelgem 2009: Top ten predictions
Devolder wins Tour of Flanders for second straight time
British Cervelo riders impress in Tour of Flanders
Cavendish wins again in De Panne
Cavendish wins Milan-San Remo
Ghent-Wevelgem 2008 in pictures
2008 race report: Freire wins Ghent-Wevelgem
2008: Cavendish disappointed after chaotic Ghent-Wevelgem finale
Follow Cycling Weekly on Twitter>>
Thank you for reading 20 articles this month* Join now for unlimited access
Enjoy your first month for just £1 / $1 / €1
*Read 5 free articles per month without a subscription
Join now for unlimited access
Try first month for just £1 / $1 / €1