HAYLES WINS MEN'S NATIONAL ROAD-RACE CHAMPS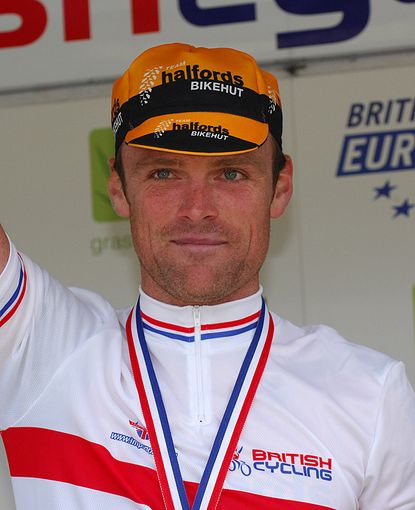 Rob Hayles has made it a double for Halfords Bikehut at the National Championships. The 35-year-old held off Peter Kennaugh (100% ME) by a handful of bike lengths in Duncombe Park, North Yorkshire, to follow Nicole Cooke's win in the women's race on Saturday.
It was an extremely aggressive race on a tough course. A group of 13 got clear when the race was nearing the end of five laps of the 18-kilometre circuit that kicked off the race. It included both Halfords riders - Hayles and Tom Southam - as well as Matt Stephens of Sigma Sport, Dan Lloyd of An Post, Kennaugh, Dean Downing of Rapha Condor-Recycling.co.uk, Kieran Page of Pezula and Ian Wilkinson of SIS Trek. That group made the whole race and at one stage had a three and a half minute lead.
As the race moved onto the 21 kilometre circuit, which was covered five times, David Millar (Slipstream) wound up the pace in the bunch, splitting it in two and helping drag the gap back down to under two minutes.
On the final lap, the group was whittled down to five, Hayles, Southam, Kennaugh, Lloyd and Downing. Hayles tried his luck but eventually realised the lumpy run-in was not going to help him stay away. Downing tried a couple of hard attacks on the run-in but was pulled back.
Then Hayles went for it on a descent. He held a tentative 20 metre gap for several kilometres but no one could close it up. In Duncombe Park he stayed clear, with Kennaugh trying to follow. But Hayles, a silver medallist in the past, was too strong and won his first national road race title.
Kennaugh, a first year senior who is also the reigning junior champion, took a superb silver medal and the under-23 title. Dean Downing won the sprint for bronze. Fourth place went to An Post?s Dan Lloyd whilst Mark Cavendish (High Road) led in Russell Downing, with Andy Tennant (Team 100% ME) took the bunch sprint.
Hayles was all smiles. It was in stark contrast to March when he failed a haematocrit test on the eve of the World Track Championships.
?It started hard, got harder in the middle and was unbelievably hard at the finish.? Hayles said.
?We got in a good group and really worked well together. When it got to three and a half minutes I knew it would take a hell of a lot to bring it back. We rode hard all the way and then it was up to me to make a move.
I know I've been capable of this. I'm 35 and it's been a long while coming. This can only be good for my chances of Olympic selection.?
British Cycling?s Dave Brailsford and Shane Sutton were among the first to congratulate him, with Sutton saying: ?I'll see you on the track at 8.30 tomorrow morning.?
Hayles, who won the Beaumont Trophy earlier this month, relished his moment on the podium. As he stepped out to the applause it was clear he was a popular winner.
?I didn't really have the under-23 title in mind,? Kennaugh added. ?Once I knew the group was going to stay away I was going for the silver medal. I have to take my hat off to Rob. He was so strong on the final hill. I couldn't hold him on the corners.?
BRITISH ROAD RACE NATIONAL CHAMPIONSHIPS 2008 (MEN): RESULTS
1. Rob Hayles (Halfords Bikehut)
2. Peter Kennaugh (100% ME)
3. Dean Downing (Rapha Condor-Recycling.co.uk)
4. Dan Lloyd (An Post)
5. Mark Cavendish (High Road)
6. Russell Downing (Pinarello)
7. Andrew Tennant (100% ME)
8. Dan Fleeman (An Post)
9. Jonathan Tierman-Locke (Mid-Devon)
10. Jonny Bellis (100% ME)
UNDER-23 MEN
1. Peter Kennaugh (100% ME)
2. Andy Tennant (100% ME)
3. Jonny Bellis (100% ME)
Jeremy Hunt
David Millar
Nationals in full flow
Mark Cavendish
Podium (l-r): Dean Downing (3rd), Rob Hayles (winner), Peter Kennaugh (2nd)
Photos by Andy Jones
RELATED LINKS
British National Championships (men) photo gallery
Cooke wins women's national champs
British National Championships (women) photo gallery
National Championships gossip
The Big Preview: British National Championships
National Championships 2008 start lists
Thank you for reading 20 articles this month* Join now for unlimited access
Enjoy your first month for just £1 / $1 / €1
*Read 5 free articles per month without a subscription
Join now for unlimited access
Try first month for just £1 / $1 / €1