Is this hill with 13 hairpins the best British climb you've never heard of?
Situated on the Scottish island of Bute, Serpentine Hill hosts an annual hill-climb event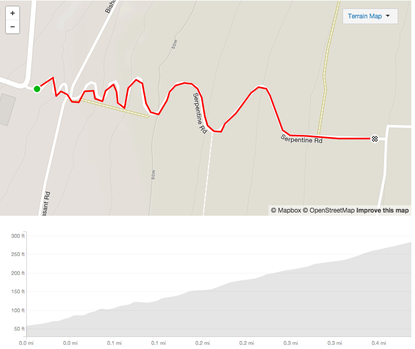 Bealach-na-Bà may well be defined as Britain's must-do cycling climb but even that can't lay claim to having 13 switchbacks and a menacing 10 per cent average gradient.
What can is Serpentine Hill, a town road in Rothesay on the Isle of Bute, a Scottish island just over 40 miles from the centre of Glasgow.
Climbs that last for just 0.4 miles and take the best hill-climbers a fraction shy of two minutes ascend aren't exactly epic feats. But what makes this picturesque road so unique and a must-do is its hairpins that come in succession, rearing to almost 15 per cent on some corners.
>>> 10 climbs from around the world you haven't heard of
Such is the climb's obscurity from most of the cycling world, the Strava segment for it has only been attempted by 208 people. Its KOM holder is Harry Tanfield, a rider originating from North-East England who rides for Pedal Heaven.
Tanfield rode the hairpins and the steep gradients during the 2013 Rothesay Cycling Weekend, an annual weekend of cycling that includes a hill-climb event organised by Bute Wheelers.
Organised since the early 1950s, the weekend of cycling has always attracted a lot of West of Scotland cyclists; this year's event is the weekend of September 17 and 18 with the winner pocketing £100.
Chris Smart (GTR) has won the event in the past with a time of 1.54, while Great Britain mountain biker Grant Ferguson has also previously rode the event.
>>> What does a Cannondale hill-climb bike weighing 4.9kg look like?
Murray Doyle, secretary of Bute Wheelers, told Cycling Weekly: "It's not the distance that makes it tough, it's the technical aspect of it. The hairpins start immediately and the first few come in such quick succession but they eventually start to spread out.
"After two-thirds the view disappears and you can no longer see where you started but it's still a drag to the top.
"It's an iconic road on the island and everyone who brings their bike here can't leave without riding it."
The Isle of Bute, populated by just over 6,000 people, is nestled in Scotland's Firth of Clyde and so is one of the country's southernmost island. It is easily accessible by regular ferry services from the mainland.
Thank you for reading 20 articles this month* Join now for unlimited access
Enjoy your first month for just £1 / $1 / €1
*Read 5 free articles per month without a subscription
Join now for unlimited access
Try first month for just £1 / $1 / €1