Hotter than Mallorca: Parts of UK set to (briefly) enjoy perfect cycling weather this week
Temperatures in the high teens on Monday and Tuesday, before snow and rain bring us back to reality.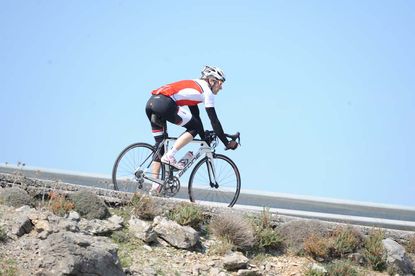 (Image credit: andy jones)
At this time of year plenty of cyclists are heading to Calpe, Mallorca or another popular Mediterranean training locations in search of warm weather, but if you chose to go this week, then you might actually have been better off staying at home.
>>> Spring cycling deals: Eight bargains on kit you'll need in the coming months
Thanks to a blast of hot air making its way up from the Caribbean, London, East Anglia and parts of the north east could hit 17ºC on Monday and Tuesday, a degree or two warmer than many parts of southern Europe. This will be accompanied by a gentle south westerly wind to create near-perfect riding conditions.
Watch: Buyer's guide to spring clothing
But don't get carried away and start putting away the winter kit just yet, as the second half of the week will see an abrupt return to winter as low temperatures, heavy snow, and gale force winds batter Northern Ireland, the west coast of Scotland, and northern England, probably forcing many riders to return to the turbo trainer.
>>> Cycling in the rain: how to survive it (video)
As for next week, well we're afraid that looks like a return to typical February conditions, with grey clouds and temperatures in the high single figures.
So maybe it's not spring quite yet. Sorry.
Thank you for reading 20 articles this month* Join now for unlimited access
Enjoy your first month for just £1 / $1 / €1
*Read 5 free articles per month without a subscription
Join now for unlimited access
Try first month for just £1 / $1 / €1