Hoy and Pendleton take on World Champs rivals in Manchester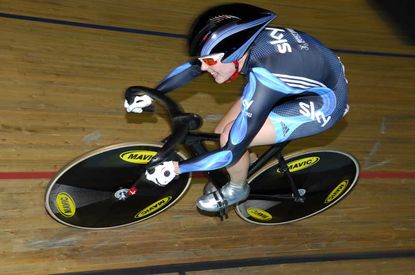 The Manchester Velodrome will play host to a packed day of cycling action on Saturday February 27 as Great Britain take on the rest of the world in a final test before the UCI Track World Championships in Copenhagen four weeks later.
The programme will feature the National Madison Championships in the afternoon followed by the season finale of Revolution in the evening giving spectators a double bill of racing and entertainment.
Team GB will be out in force as riders including Chris Hoy and Jason Kenny look to fine tune their form in advance of the World Championships. They will line up against riders from Holland, Italy and Switzerland as well as a full strength German team including the current World Kilo Champion Stefan Nimke.
In the women's sprinting current Sprint World Champion Victoria Pendleton will be the home favourite and will be using the Revolution as an important part of her Worlds preparation,
"The Revolution is a really good opportunity to get some race experience approaching the Worlds. I haven't done that many World Cups this year and there's going to be a few good riders there who I'll be up against at the Worlds so it's a good idea to see where I'm at, and where they're at too!"
"My preparation for the Worlds is going quite well at the moment" she continued. "I've had a few troubles with injury but hopefully I think they're under control which is definitely pleasing. I'm looking forward to going into Copenhagen and hope to regain my jersey for another year."
Pendleton was quick to confirm that the Sprint will remain her current focus in spite of the recent Olympic developments that have added the Keirin and the Team Sprint to the 2012 Games,
"Currently, the sprint is still my main focus. We're just re-strengthening the sprint squad at the moment, the riders coming through are fairly young still and they're only just starting to train full time. Jess Varnish and Becky James are looking very promising for the future, but this year it's about sticking to the original plan and what I was focusing on, which fundamentally is still the sprint event".
"I am looking forward to competing in the team sprint, but it's still early days. We're still in the process of forming a team, and how we're going to approach it. It's still quite experimental for us in that phase, but the team sprint will be a very dominant part of my programme from next year onwards."
The Revolution programme will include a Keirin, Team Sprint and Sprint providing a test across all the Olympic disciplines. The event will also see Pendleton come face to face with Holland's Will Kanis for the first time since beating her in the World Championship Sprint final in 2009. Kanis has had a strong season finishing third overall in the Sprint World Cup rankings so Revolution is set for a fascinating contest as both riders look to score crucial psychological points ahead of the 2010 Worlds.
"It's always good to prove to your rivals, how well you're going, if you're going well!" Pendleton acknowledged. "Sprinting is very psychological and therefore having as many opportunities to be dominant or perform well is always good. However, we're still a training block away from the World Championships so I'm hoping that I've got a lot of improving to do before I get there."
Which such a strong rider line up tickets for the evening Revolution have been sold out since the beginning of the year. However, spectators can also see Hoy and Pendleton in action in the afternoon which will also feature the cream of British endurance talent in the National Madison Championships.
The afternoon event takes place between 12.00 and 15.30 and tickets are priced £6 for adults, £3 for concessions and £15 for families of four. Tickets can be purchased on www.cyclingrevolution.com or from the Manchester Velodrome on 0161 223 2244.
Related links
Track stars use Revolution in preparation for World Champs
Pendleton is new face of Hovis
Cycling Weekly: Rider Profiles index
Atkins and Mould scoop podium place at Copenhagen Six
CW's Dummies Guide to Track Racing
Thank you for reading 20 articles this month* Join now for unlimited access
Enjoy your first month for just £1 / $1 / €1
*Read 5 free articles per month without a subscription
Join now for unlimited access
Try first month for just £1 / $1 / €1