"I can't help, it would upset my kids," bloodied cyclist told after collision with car
Taron Stead, 17, was lying on the road after a collision with a car, only to be told by its passenger that she couldn't help him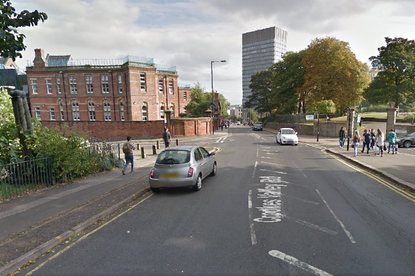 A Sheffield teenager was left bloodied at the side of the road after a collision with a car, only to be told by the passenger that she couldn't help him because she "didn't want to upset her children".
Taron Stead, 17, was cycling on Crookes Valley Road during the morning rush hour on March 6 when the incident occurred, leaving him covered in blood and bruises.
But as the Sheffield Star reports, the female passenger got out of the car, told Taron that her children were upset and they were late for school, before the car drove off without leaving any details.
Taron's mother Naomi Pickard, 45, told the Star: "I can't believe anyone would leave an injured child at the side of the road after a crash.
"He said the woman in the car got out looked over at him, told him she had children in the car who were upset and she didn't want them to be late for school, then the car drove off.
"But it was rush hour and it would have been busy so I am hoping that witnesses come forward and help the police trace the driver."
Taron was eventually helped by members of staff from the Sheffield University law school before being taken to hospital. Police have appealed for any witnesses to come forward.
>>> Row grows over Sheffield's absence from Government cycling funding
A police spokesman said: "The incident happened in Crookes Valley Road, Sheffield on Friday 6 March when a 17-year-old boy on a bicycle was travelling towards Brook Hill along Crooks Valley Road onto Winter Street.
"At around 8.30am, the cyclist and a vehicle turning onto Mushroom Lane were in collision. It is reported that the vehicle left the scene.
"The cyclist suffered facial injuries and bruising. The vehicle is described as a silver Ford, either a Focus or Mondeo."
Thank you for reading 20 articles this month* Join now for unlimited access
Enjoy your first month for just £1 / $1 / €1
*Read 5 free articles per month without a subscription
Join now for unlimited access
Try first month for just £1 / $1 / €1