Icons of cycling: Ambrosio Nemesis rims
The golden ticket to success at Paris-Roubaix for many years was a cobble-specific alu rim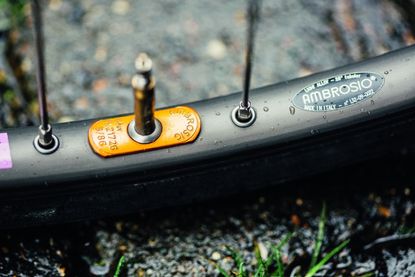 While composites technology made wheels lighter, stiffer and more aerodynamic, it took a long time before teams dared to use them for Paris-Roubaix and even longer before somebody actually won the 'Hell of the North' on them.
This legendary race, which is older than the Tour de France, had always demanded legendary wheels. The Ambrosio Nemesis was the epic final chapter in the story of wheels specifically designed and handbuilt for the cobbled Classics.
The hard-anodised aluminium box section rim with tied and soldered spokes used to be as much part of Paris-Roubaix as cobbles, suffering and crashes.
Just as featherweight Grand Tour GC contenders have in the past had their hearts broken by the jagged pavé of the Arenberg Forest and Carrefour de l'Arbre, the repeated impacts of Roubaix have traditionally destroyed standard road racing equipment. The Ambrosio Nemesis was the sole survivor.
Spinergy Rev-X wheels were cutting-edge, four-spoked American fliers for riders who like to live on the edge
Mavic was a pioneer of the aluminium rim. The earliest was launched in 1934 and was made from Duralumin, an aluminium-copper alloy which was in every way superior to the steel or wooden rims of the day.
Mavic's rims ruled professional cycling for most of the remainder of the 20th century. The French company recognised that something extraordinary was required for the cobbled Classics and the Paris-Roubaix SSC Grise was it.
The rim that arguably supplied the blueprint for the Ambrosio Nemesis had a hardened grey surface, double spoke eyelets, was half a millimetre wider than its tarmac-going SSC ('special service course') stablemates and at 400g weighed 5g more.
But as Mavic began to spread itself more thinly and discontinued the Paris-Roubaix model, the Italian Ambrosio Nemesis rim became the pro choice. At 430g it was heavier than the Mavic and possibly more suited to the muscle-bound new generation of cobbled Classics riders led by Fabian Cancellara and Tom Boonen.
Find the right wheels for you
Downfall of Nemesis
The Nemesis was identifiable as it rattled past at high speed by its 'golden ticket' — the polished brass badge around the valve hole. This became in Paris-Roubaix folklore the ticket by which the greats of the 1990s and 2000s gained entry to the famous Roubaix velodrome before everyone else.
>>> Do riders need a special bike to win Paris-Roubaix? Mathew Hayman didn't
But in 2010 the future caught up with the Nemesis when Cancellara became the first to win Paris-Roubaix on carbon wheels.
As long ago as 1995 a carbon frame had won for the first time, so it was bound to happen sooner or later. And it was here to stay. No aluminium wheel has won since.
If you squint you might still spot a rare golden ticket glinting in the Easter sunshine but it won't be on the pavé - it will most likely be on a team car roof.
Thank you for reading 5 articles this month* Join now for unlimited access
Enjoy your first month for just £1 / $1 / €1
*Read 5 free articles per month without a subscription
Join now for unlimited access
Try first month for just £1 / $1 / €1