Inside Boardman's new wind tunnel: affordable aero testing
"Chris Boardman's new wind tunnel," as it has become almost universally known, the Boardman Performance Centre has its long-awaited opening on April 30. James Shrubsall got an exclusive tour from the man himself - Photos by Andy Jones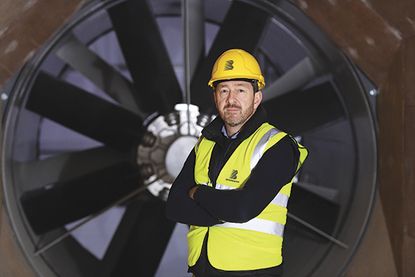 (Image credit: Andy Jones)
Get The Leadout Newsletter
The latest race content, interviews, features, reviews and expert buying guides, direct to your inbox!
Thank you for signing up to The Pick. You will receive a verification email shortly.
There was a problem. Please refresh the page and try again.
I've done it. You've almost certainly done it. Chris Boardman has definitely done it — in his case to great success.
I'm talking about getting aero. Whether it's simply tucking into the drops to gain an extra mile an hour, or spending hours of expensive wind tunnel time in pursuit of Olympic medals, if you're a cyclist you know what it is to cheat the wind. But very few of us know what we're doing, why we're doing it, or even if it's doing any good.
Thankfully Boardman, for whom aero advancement has been a life's work, is about to have if not the last word, then the first word in a game-changing conversation that affects, and benefits, us all.
The Boardman Performance Centre (BPC), due to open at the end of April 2018 on a small retail park in a quiet corner of Worcestershire, looks every inch a Boardman product from the outside, all snazzy wood cladding and stylised logos, but as anyone who's been caught out by a rogue liqueur chocolate knows, it's what's inside that counts.
>>> Watch: Four top tips to reduce your aerodynamic drag
And at the heart of the BPC beat the blades of a 2.2m fan that drives a wind tunnel that for the first time in, well, forever, puts affordable high-fidelity aero testing at the hands of the average club rider.
"I don't get overexcited, I'm careful about using superlatives, but this will revolutionise cycling in Britain," enthuses Boardman, looking through the construction fence at his new baby.
"You've heard the figure a lot, you know, 80 per cent of your energy's pushing air out the way, but you test power to the watt, speed to the tenth of the km an hour. And then for aero you've got hearsay and articles in magazines. It's absolutely frickin' crazy," he protests, sounding almost offended that people haven't had affordable access to the best aero advice.
"That's because people have no choice. And now they will. At a price that's at least accessible for an enthusiast. It may change how people spend their sporting money."
It's only fair to remind ourselves that the BPC will not be the only aero testing option open to British riders. Simon Smart at Drag 2 Zero and Xavier Disley of AeroCoach would be two of the first people to raise that point. However, the combination of fidelity (accuracy to you and me), repeatability, 30 degrees of yaw and the sheer affordability of the BPC all point to a new paradigm in going faster on bikes.
Boardman and the BPC's new general manager Tom Payton — a youthful, lifelong cyclist who did time at Islabikes before moving into sales at Boardman Bikes — are giving Cycling Weekly the guided tour. We're the only publication to enjoy a pre-opening peek. Considering the numbers expected through the door in the months and years ahead, from British club riders to WorldTour pros, this is a privilege.
This is no 'come and try it' invitation, though, as the place is still a building site. The three of us, plus photographer Andy Jones, pick our way through the detritus of the construction trade and into the main downstairs area — a large glass-fronted expanse.
Tunnel vision
"This is the retail space," explains Boardman over the whine of a circular saw. All the brand's bikes, plus accessories, will be available here, adds Payton. Boardman points out the 'bar' area ("I'm pushing to have our own brand of beer, but I seem to be the only one going for it!").
There's no cafe as such but customers will be able to get a good cup of coffee, he says.
Next to that is the workshop, where clients' bikes can be fettled into their most aero selves, as dictated by the results from the tunnel. At the far end you can get a bike fit by Fizik, with whom Boardman continues to work closely on products. "Watch this space," says Payton. There are also two changing rooms.
They explain there will be options to use as many or as few facilities as you like, from just getting a bike-fit through to a complete assessment including aero, VO2 Max testing and a physiological check-over. The aim being that you'll go faster, be more comfortable and generally enjoy riding that bit more.
Stepping over more cladding, we head upstairs. Boardman points to a narrow yellow gutter: "A bike track for taking the bikes up. I wanted the stairs to be all yellow, but it was getting out of hand…"
Ideas man
When he talks, whether it's about his bike company, the performance centre, Boardman beer or yellow stairs, his enthusiasm is almost tangible. You get the feeling that his colleagues are constantly rolling their eyes at a constant influx of ideas big and small that probably seem crazy or impossible to start with, but ultimately are bang on the mark.
>>> Power vs aerodynamics: how to get the balance right
Finally, upstairs, we step into the wind tunnel. It's still in the fit-out stage like the rest of the place, but the fan, at least, has been installed. It presides over the space casting menacing shadows as Boardman poses next to it like a proud father, his latest project coming to fruition.
A control room off to one side waits for the electronic equipment that will run the custom-written software that will process information from four 4K cameras and the balance upon which the rider is mounted.
"It's the least sexy bit, but the software will probably be the cleverest thing," Boardman says. "I've got a picture of a 1930s wind tunnel on my phone, and it's almost the same design as ours. Because wind hasn't changed, air doesn't change. But getting and dealing with the data is the cleverest bit, and that came from 10 years of learning with the Secret Squirrel Club [responsible for technical development]."
Visiting riders will get their data however they want, from Coefficient of Drag figures for the boffins or a simple watts saving if you're less technically minded. The idea being that anyone can understand the benefits they're getting.
The space surrounding the wind tunnel itself, as well as being temporarily lit with construction lamps that provide plenty of atmosphere, brings home how big the place is. It's a huge warehouse-type structure. I chat with Payton, who informs me that the opening date for the centre is April 30 (six weeks away at the time of writing).
I can't help but do a double-take, considering we're standing in what is essentially an empty shell with a fan in the middle. Anyone who's seen DIY SOS knows how fast a house can be fitted out, but even Nick Knowles's mob would balk at this job. Payton, however, is unfazed, displaying a typically Boardman-esque enthusiasm for the challenge ahead: "You look at the opening day as the finish line, but that's just when it all starts. It's going to be great to see it finally open; the first person go in the tunnel, you know, and experience it."
As we leave, Boardman takes us through the performance suite — a sort of foyer area with side rooms hosting the remainder of the BPC services, such as physical assessments. The foyer acts as a kind of wind tunnel waiting room and in the centre, on a plinth, an impressive centrepiece — one of Boardman's original Lotus 108 bikes, as ridden in the 1992 Olympic Games in Barcelona.
In a happy coincidence, explains Boardman, it was bought by a Halfords employee well before Boardman Bikes and its association with the company. When he eventually visited the Halfords offices for the first time, Boardman came across the bike "propped up in a corridor". Now it's come full circle.
>>> Which aero bike is actually the fastest? (video)
"I like making things. Working with wood, writing articles, even the TV stuff. Blank piece of paper, make something," says Boardman of his drive to keep creating. "It's fun. A fascination with understanding how things work and trying to do something with it."
This latest 'blank piece of paper' could be Boardman's biggest achievement yet, but he's quick to credit the others who have been instrumental in setting it up. These include Matt Davies, the former Halfords CEO: "He listened to the business case for 10 minutes and he just said, 'Yeah, let's do it!'"
And then Rob Lewis — former F1 aero guru who was a core Secret Squirrel Club member — and the time they shared a now fabled curry over which the idea was born. "He said, 'This is my disposable income, imagine if we could do it for that,' and I said, 'How would you do it?'"
Money, money, money
And in the end it all comes back down to money because it is affordability that will make this the game changer Boardman hopes for.
"From all the research we've done, it's far and away the most affordable in the world," he says. "Rather than spending thousands on a set of wheels come here. Spend two or three hundred quid, go faster — and with the money you save go on a training camp."
Majorca in the spring, anyone?
Boardman Performance Centre essentials
Opens: April 30 Address: The Valley, Evesham, Worcestershire, WR11 4DS
Prices: From £195, depending on the package chosen.
What: The basic package will include 15-minute briefing, 30 minutes in the tunnel with your bike, evaluation of current position, testing up to two improvements, performance predictions, 15-minute debrief for £195. A more in-depth analysis is available with the above plus an additional 30 minutes time in the tunnel, testing at different yaws and wind speeds, trial of advanced equipment and greater guidance on positions for £350. Other packages were being finalized at the time of writing.
Where: Just outside Evesham in Worcestershire. The BPC is located 15 miles from the M5 at Worcester and 19 miles from the M40 near Stratford-upon-Avon. Birmingham Airport is 30 miles to the north. The central location was chosen specially by Boardman. www.boardmanbikes.com
Boardman the pioneer
More than once during our visit, Chris Boardman referenced Graeme Obree as an innovator. "As soon as you write a line of text, he'd just see the gap you made between the text," he said of the Scot. But while Boardman's approach is perhaps more scientific, he has spent a career as an innovator himself:
The Lotus 108
Boardman's famous Olympic bike was invented by Mike Burrows and licensed by Lotus, but it still needed a rider with pioneering spirit to ride it. Boardman eventually became sick of people crediting the bike with his Olympic win in 1992, but whatever the Lotus did or didn't contribute, the medal was a pioneering work itself. After all, it took 72 years to achieve.
DIY spirit
Graeme Obree wasn't the only one to make stuff. "In 1993, I sketched up my own one-piece handlebar and fork design because the UCI brought in the rule for equal-sized wheels," Boardman recalls. "The only way I could get low enough was to design my own handlebar and fork. So I commissioned it." Not a washing machine bearing in sight.
Secret Squirrel Club
In late summer 2004, Boardman was appointed "Head of Stuff" at British Cycling. Within a year, his small department became the Secret Squirrel Club, tasked with exploring all those 'gaps in the text' with a focus on Olympic medals. Using lateral thinking and exhaustive wind tunnel experimentation, the SSC helped Team GB to 26 medals over the next two Olympic cycles.
Thank you for reading 20 articles this month* Join now for unlimited access
Enjoy your first month for just £1 / $1 / €1
*Read 5 free articles per month without a subscription
Join now for unlimited access
Try first month for just £1 / $1 / €1
Get The Leadout Newsletter
The latest race content, interviews, features, reviews and expert buying guides, direct to your inbox!
After cutting his teeth on local and national newspapers, James began at Cycling Weekly as a sub-editor in 2000 when the current office was literally all fields.
Eventually becoming chief sub-editor, in 2016 he switched to the job of full-time writer, and covers news, racing and features.
A lifelong cyclist and cycling fan, James's racing days (and most of his fitness) are now behind him. But he still rides regularly, both on the road and on the gravelly stuff.