Invisible barrier on Cumbria path injures cyclists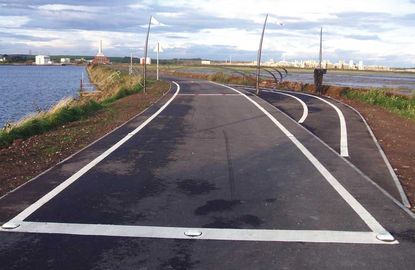 Get The Leadout Newsletter
The latest race content, interviews, features, reviews and expert buying guides, direct to your inbox!
Thank you for signing up to The Pick. You will receive a verification email shortly.
There was a problem. Please refresh the page and try again.
Not as grand as those splendid Anish Kapoor sculptures, nevertheless, the 'invisible' steel barrier, painted in a battleship grey on a Cumbria cycle path, plays tricks with your eyes in a similar way.
Because if you approach it at 15mph, as cyclist Simon Walker did, chances are you won't see it until too late. He didn't. And he's since heard that three other riders have ridden into it.
Simon has souvenirs to prove it: stitches, bruising, a sprained wrist and swollen legs. Where is it? On the cycle path between the Concle Inn at Rampside to Cavendish Dock in Barrow. You have been warned.
Over to Simon: "I never saw it until I was peeling myself off the solid steel barrier. I managed not to faint, or throw my porridge up, then rode about 1.1/2 miles to work where the first aider took me to hospital. If I'd been going any faster and I'd have broken bones for sure, thank god for the dog who slowed me do a bit."
Simon adds: "Narrow, twisty cycle lanes is one thing. Setting up a World War 2 style booby trap, like the one commandos used to knock Germans off their motor bikes, takes it to whole new level."
Can you see the barrier across this stretch of tarmac?
And Simon is qualified to say that. He works for BAE Systems on Global Combat Systems Weapons.What he'd like to know is, did the local authority do risk assessments, did they not think to paint it yellow and black, to warn approaching cyclists that a newly installed and invisible barrier lay somewhere ahead of them.
Cycling Weekly made enquiries during the writing of this piece, and eventually found David Gibson, Right of Way (Planning Officer) of Cumbria County Council, who said he thought that path might be on his patch. But he was about to go on holiday. So we're not to expect anything done about this until his return.
Would we email him the pictures? Yes.
So how is it that 'invisible' barrier was put there in the first place, I asked him. It's a bit involved.
To start with that path used to be a footpath, not a cycle path. Sustrans, creator of cycle paths and the National Cycle Network, came along and persuaded the local authority of the value of making it a cycle path.
It was duly upgraded but apparently not in accordance with County Council guidelines, and then to make matters worse, it was never signed over to them for them to maintain and so remained a footpath on their books, with a nice barrier for pedestrians - max speed 4mph - slow enough to take it in, as they meander up to it.
And from a different direction, the barrier is no clearer
Mr Gibson has just replied to my email, and acknowledged receipt of the pictures. "Thanks for that Keith. It's not on the section I thought but speaking to our development section they are aware of this and should be in contact with you."
Well, that's nice. I'd sooner they dived out to give the 'invisible' barrier a bright coat of paint, before another unsuspecting cyclist hurtles into it at 15mph.
The marvels of email. A Cumbria County Council spokesman has just emailed this statement: "The barriers are in place to prevent unauthorised vehicles driving along the path and are marked with advanced warning signs to notify approaching cyclists.
"Further modification is also due to be carried out on the path with additional caution notices being painted on the tarmac and paint put on the barriers themselves."
Now you can see it!
Thank you for reading 20 articles this month* Join now for unlimited access
Enjoy your first month for just £1 / $1 / €1
*Read 5 free articles per month without a subscription
Join now for unlimited access
Try first month for just £1 / $1 / €1
Get The Leadout Newsletter
The latest race content, interviews, features, reviews and expert buying guides, direct to your inbox!
Keith Bingham joined the Cycling Weekly team in the summer of 1971, and retired in 2011. During his time, he covered numerous Tours de France, Milk Races and everything in-between. He was well known for his long-running 'Bikewatch' column, and played a pivotal role in fighting for the future of once at-threat cycling venues such as Hog Hill and Herne Hill Velodrome.