Is this the best bike race you've never heard of?
Cobbles, gravel, wind and a piglet: why we love Brittany's very own classic, the Tro Bro Léon - which takes place this Sunday, April 17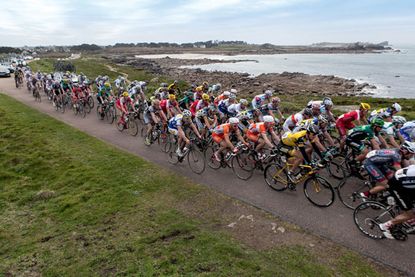 Here is a professional bike race that feels a little bit like it doesn't belong in this world. The 200km route zooms up hills, along windswept coasts, through the grounds of deserted castles and into dark passages that tunnel under motorways like rabbit burrows.
It takes place the weekend after Paris-Roubaix and is run over off-road sectors through farmland in the far west of France. There are farm animals aplenty – although these are reserved for the podium – and the publicity poster features a cartoon of the previous year's winner, drawn by the organiser.
It's ranked UCI 1.1 and is part of the French national road race series, the Coupe de France, and seldom attracts many foreign riders. There is no publicity caravan, no yellow jersey, and it is not run by Tour de France organisers ASO.
The local press in Finistère have dubbed it the 'Breton Paris-Roubaix,' or the 'Hell of the West,' but it's much more than just a pastiche of that Queen of the Classics over by the Belgian border.
Organised by a cheerful, leather jacket loving Breton Billy Connolly lookalike called Jean-Paul Mellouët, even the name is in an ancient language spoken by less than a quarter of a million people.
It's called the Tro Bro Léon, and it is quite possibly the best race that you've never heard of.
Where there's muck there's brass
In fact even if you have heard of it, the Tro Bro Léon might still be your favourite event on the professional calender. It is distinguished by 25 of those off-road sectors which are known locally as ribinou, a word which has no direct English translation but approximates to something like 'mucky farm tracks.'
Some ribinou are gravelly while others are paved with juddering round, kiwi-fruit shaped cobblestones. Others cut through woodland while the rest are just muddy tracks through fields. Uphill and downhill, they make for some great racing.
On board at the Tro Bro Leon 2015
https://www.youtube.com/watch?v=S6zsLRXh9Ks
Chuck in some gales blowing in from the Atlantic and this race has all the ingredients of an absolute classic. The fact that it takes place in a disconnected yet beautiful part of rural France clinging onto the edge of Europe just counts in its favour.
The 2015 race was won by Alexandre Geniez (FDJ) but it was second placed Benoît Jarrier (Bretagne-Séché Environnement) who came out the real winner; since he was the best placed Breton rider, he made his way back from Brittany with a prize piglet of his own.
Thank you for reading 20 articles this month* Join now for unlimited access
Enjoy your first month for just £1 / $1 / €1
*Read 5 free articles per month without a subscription
Join now for unlimited access
Try first month for just £1 / $1 / €1