IVES TO TAKE ON ALL THREE 2008 GRAND TOURS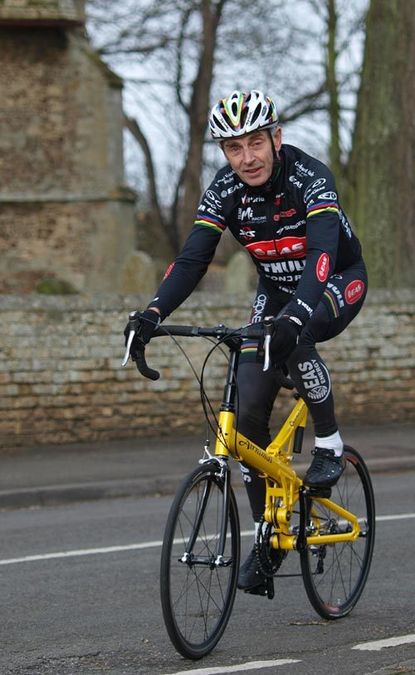 Not many professional riders can claim to have done 'the triple' in any one season - that is, ride and complete the Giro d'Italia, Tour de France and Vuelta a Espana. But for veteran British racer Mick Ives, that is exactly what he will be aiming to do this year.
Mick is planning to ride the routes of all three 2008 Grand Tours in one day less (each tour) than the professionals. He is aiming to do this solo, with just one vehicle providing back-up support on this most epic of challenges. And it's all in aid of the SPARKS (Sport Aiding medical Research for KidS) charity.
"After 53 seasons of non-stop racing, come summer or winter, something no other rider has ever done one would expect me to be thinking about packing it all in, and enjoying just to potter about on the bike," says Mick. "But not me. I am attempting to take on the toughest cycling challenge of my whole life. In fact, one of the greatest of all cycling challenges, something that has never been achieved before."
Five-times UCI world champion and 62-times British champion across several disciplines, Mick is not going into this with any fake notions of gliding through the mountains. He completed the 2005 Tour de France route solo in one day less than it took the professionals. He is still this only rider to have achieved this feat.
Needless to say, Mick has already well into his preparations for the 2008 challenge.
"My preparation is going well, and on schedule," says Mick. "I have now got over the heavy colds that persisted during the Cyclo Cross season, and my recent working trip to the Tour of Langkawi in Malaysia, where I averaged two hours a day training in warm conditions using an Airnimal folding bike, have brought my condition on.
"I will start my racing season the first week in March, mixing hilly time trials and road races, often riding to and from the events."
Just to make sure he's not making it too easy for himself, Mick also intends to use a Fuji Aloha time trial bike on all of the time trial stages in each tour. He is also going to use a variety of road bikes along the way, and send back an in-depth report on each model to any manufacturer willing to lend him a bike.
Mick would like to hear from anyone who would like to sponsor this most mammoth of efforts, or anyone who may be available to help him achieve this feat (accommodation, food and travel will be provided). You can contact him via mick@bikeking.wanadoo.co.uk or by telephoning 02476 304009. Donations can be sent to 'Three Tours Challenge,' c/o Mick Ives, 78 Mill Hill, Baginton, Nr Coventry CV8 3AG.
We will be following Mick's progress throughout the year, and he will be posting regular blogs en route to update us on his progress.
Thank you for reading 20 articles this month* Join now for unlimited access
Enjoy your first month for just £1 / $1 / €1
*Read 5 free articles per month without a subscription
Join now for unlimited access
Try first month for just £1 / $1 / €1