Jason Kenny and Steven Burke lead Euro Champs track team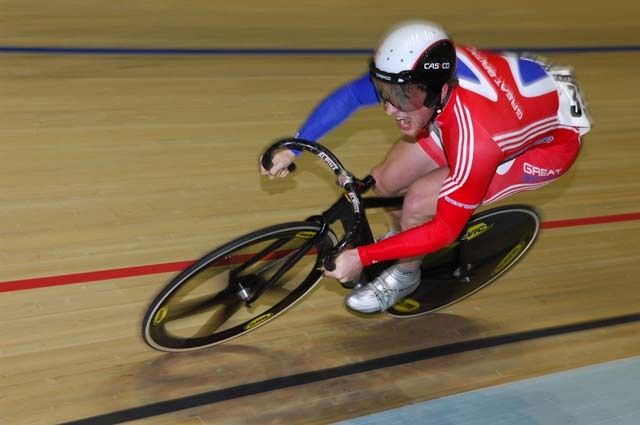 Jason Kenny and Steven Burke, gold and bronze medallists respectively from the Beijing Olympics, will lead Great Britain's assault on the European Track Championships in Belarus.
The championships, starting tomorrow in Minsk, are a significant goal for the Olympic Academy and Olympic Development Programme riders who will compete against some of Europe's finest track cyclists.
British riders have an impressive record at the European Championships and will use the event to prepare for the track World Cup, and later, the World Championships.
In the meantime, the selected riders have been training for the event at Manchester and Newport velodromes, practicing drills and putting the finishing touches to their preparations.
Simon Cope, the U23 women's track endurance coach, explained that for his riders, "the sratch race is definitely a target and we'll see how to points race goes.
"Anna [Blyth] has recently made the switch from sprint to endurance and she's going really well. On the track she's definitely coming along and as long as the scratch race goes her way then there's no reason why she can't win it.
"As for Alex [Greenfield], she's already a double points race champion on the track so she knows what it's all about.
"The European Championships are always a marker to see how everyone's going and they're a big mark for the girls. It'll be good to see where we are against some of the best in Europe and the European Championships are always a good benchmark for that.
"It's a good line-up as a whole and I think we've got the chance to do well".
Selected riders for the European Championships:
Under 23
Sprint: Peter Mitchelll, David Daniell, Jason Kenny and Jessica Varnish
Endurance: Anna Blyth, Alex Greenfield, Steven Burke, Andy Fenn, Luke Rowe, Mark Christian and Erick Rowsell.
Juniors
Sprint: Kevin Stewart, Callum Skinner, Lewis Oliva, Kian Emadi and Becky James
Endurance: Laura Trott, Ella Sadler-Andrews, Jessica Booth, Corrine Hall, Sarah Reynolds, Tim Kennaugh, Chris Whorral, Dan McLay, George Atkins, Sam Harrison and Jon Mould.
Schedule of events:
Wednesday July 15
Junior women's team pursuit
Junior men's team pursuit
U23 women's team sprint
U23 men's individual pursuit
Junior women's sprint
U23 men's kilo
Junior men's team sprint
Thursday July 16
Men's U23 team sprint
Men's junior individual pursuit
Junior women's individual pursuit
Junior women's sprint
U23 women's team pursuit
Junior men's kilo
Friday July 17
Junior women's 500m TT
U23 women's 500m TT
U23 men's TT
U23 women's pursuit
Junior men's sprint
Saturday July 18
Junior women's points race
Junior men's sprint
U23 men's sprint
Junior women's keirin
U23 women's points race
U23 men's scratch race
Sunday July 19
Junior women's team sprint
U23 women's scratch race
Junior women's team sprint
Junior men's keirin
U23 women's keirin
U23 men's points race
Junior men's keirin
Junior men's madison
RELATED LINKS