Jason Kenny takes sprint world title as British sprinters reveal their true colours
Britain's male sprinters came out firing on all cylinders in the individual sprint today with Jason Kenny winning gold and Callum Skinner taking a huge leap forward in his career making it through to the quarter finals and beating nine-time world champion Gregory Bauge along the way.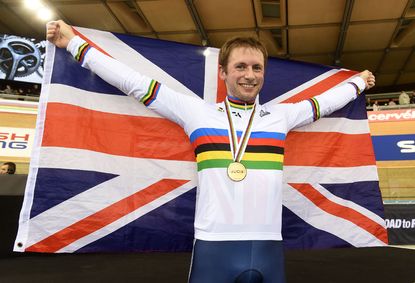 (Image credit: Andy Jones)
Jason Kenny has become known for only performing to his full potential in Olympic year. He did nothing to dispel that stereotype when he won the sprint world title against Matthew Glaetzer today. Kenny beat the Australian 2-1 to take the second sprint world title of his career and remind anyone who doubted him over the last two years that he will be the man to beat in Rio.
Kenny, the reigning Olympic sprint champion, hasn't made a sprint final since the 2012 worlds (ahead of London), and finished down in 14th place just 12 months ago in Paris. His performances in Olympic compared to non Olympic years has even the British coaches scratching their heads as to why it varies so greatly.
"I don't know. I'm always trying." Kenny said of his four year cycle. "Twelve months ago I remember sitting in the stands, watching the semi-final and the final and it just seemed like a world away. I'd been first round fodder and we'd all gone home early."
"Now for me to be in the final and for Callum [Skinner] to make the fifth to eighth [final], we've turned it around. We need to make sure we make the most of the next five months. When you look at the kit we're on and the time in the 200m, it was close to the London Olympics. I think I'm there or thereabouts to the best I've ever been."
The performances of 23-year-old Callum Skinner in the sprint were as encouraging. Riding his second senior world championships the Scot knocked defending champion Gregory Bauge out, and in the quarter-final took a race off of Russia's Denis Dmitriev, the silver medallist from last year.
"To beat Bauge is incredible. It's really positive for me. Last year at the world champs I qualified last and [came up against] Bauge who qualified first, so it was a fairly short competition for me. If I can make that kind of progression in a year, and with five months still to Rio it's possible [to improve further]."
Skinner was man three in the team sprint on the opening day when the British trio looked like they had got it all wrong in qualifying. With gaps opening between Skinner, Kenny and Philip Hindes they slumped to sixth and didn't get to contest the medal finals.
Their performance however was much better than it looked, and their results in the individual sprint now back this up.
Man one Philip Hindes rode the fastest ever lap from a standing start at sea level with a 17.03 on Wednesday. Kenny then followed him to post the fastest second lap of the day. That put them in the lead after two laps, but their sheer speed meant Skinner hadn't been able to get on the back of them and effectively had to ride without the benefit of the slip stream.
"I doubt there'd be many man threes in the world that could hang on to a 17.0!" Skinner said after finishing eighth in the 5-8 final. "I can understand why from the outside looking in it looks a little disappointing but we're really encouraged by it. People forget that we're world cup winners at the moment so we've been consistent through the season."
There are subtle changes that can be made to solve this problem. The team rode the team sprint on gears between 100 and 108 inches (they wouldn't say exactly what) and to slow Hindes down they could put him on a slightly bigger gear. This should also allow him to deliver Kenny at his top speed as a bigger gear means a slower start which should mean a more gradual acceleration.
The down side is that this could slow him down over the whole lap, and as Skinner admits, it's Kenny job, and then his, to get on the back of Hindes rather than to slow Hindes down. "I've got two great riders to chase. If I can get on the back of that we're probably the fastest team in the world. It's just putting it all together. Once it clicks we should be pretty dangerous.
Thank you for reading 20 articles this month* Join now for unlimited access
Enjoy your first month for just £1 / $1 / €1
*Read 5 free articles per month without a subscription
Join now for unlimited access
Try first month for just £1 / $1 / €1