Jeremy Corbyn's Christmas card is mocked for lacking Christmas spirit
Yep, that's right. Jeremy Corbyn's Christmas cards feature snow-covered bicycles, although it's drawn a bit of criticism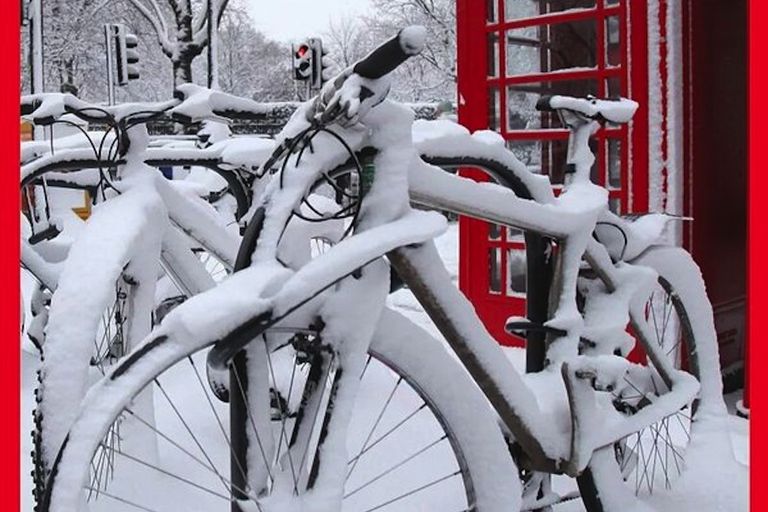 Jeremy Corbyn prefers cycling to driving, we all know that by now. It also seems that Jeremy Corbyn prefers a picture of snow covered bikes on his Christmas cards than a self-promoting picture of him and his family, like most other politicians choose.
David Cameron is pictured with his wife Samantha outside his 10 Downing Street home, while Tony and Cherie Blair's card from 2014 was particularly memorable for the former Prime Minister's angry expression.
>>> Five bikes we'd recommend to Jeremy Corbyn
Some critics - yes, Jezco even gets criticised for his Christmas card choice - have claimed that Corbyn's snowy scene lacks Christmas spirit, but here at Cycling Weekly we applaud the choice.
What we particularly like about it, other than the obvious fact that it contains a bike, is that the bike is very securely parked. Look carefully through the snow and you'll see the owner has secured it with two locks, one through each wheel and around the frame.
Then there's the red factor. There's a lot of red in it - from the font the the phone box. Even the traffic light is red. We're probably digging a little deep for hidden meanings here, but we guess this means Jezza was a big fan of the Vuelta a España red jersey battle this year.
>>> Labour will be a 'strong voice for cyclists in Parliament' says MP
Just to leave you with a few nightmares, here's that Tony Blair one from 2014...bet they wish they chose a nice bicycle now...