Katusha doctors knew about Luca Paolini's sleeping drug addiction
Luca Paolini's addiction to sleeping medication indirectly led to the Italian's cocaine positive at Tour de France - Katusha doctors eventually refused to give him sleeping drug - Paolini would drink 'five or six' cups of coffee before breakfast to wake up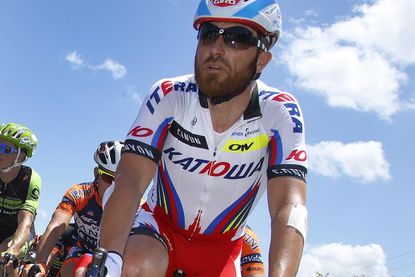 (Image credit: Watson)
Luca Paolini's sleeping medication addition was a known problem in team Katusha, says team doctor Massimo Besnati. The Italian rider took greater amounts to sleep at night and drank more and more coffee to wake in the morning before a cocaine positive test the Tour de France stopped him this July.
The 38-year-old Italian explained yesterday in an interview with La Gazzetta dello Sport newspaper that he was addicted to Benzodiazepine drops, but now has recovered thanks in part to the Tour anti-doping test.
"Lormetazepam, the principle ingredient among all Benzodiazepines, is what brings on dependency," Besnati told the newspaper today. "You start with 10 drops, then 15, 20, 30... You arrive at 100. If you try to stop, like all drugs, you have withdrawal symptoms.
"Yes, I knew. I knew this was his dependency. I told him he couldn't go on this way. He also spoke about it with the people close to him. I wouldn't give him prescriptions anymore, but he'd find a way to obtain it anyway."
>>> Luca Paolini tests positive for cocaine at the Tour de France
Paolini raced since 2000, when he joined Mapei. Since 2011, he raced in team Katusha's red colours where he helped Joaquím Rodríguez and Alexander Kristoff and won Omloop Het Nieuwsblad and Ghent-Wevelgem.
He failed an anti-doping test for cocaine at the Tour on July 7 and was ejected after the seventh stage, July 10, to Fougères. He said the cocaine test led him to seek help for his sleeping medication problem.
"Then came cocaine. It was inevitable for me," said Paolini. "I took it when I was alone at a pre-Tour training camp in mid-June. It made me open my eyes to the dependency I had on sleeping medication."
>>> Luca Paolini apologises for cocaine positive at Tour de France
"Benzodiazepine created a bad dependency. I needed it at night to rest, to confront the physical and mental effort of the next day. I started in 2004 when my brother-in-law died. I took it, I stopped, I took it again. In the last two to three years, I always used it, at home and at the races. I was dependent. The drops are never enough."
The drug is not prohibited and Paolini explained he purchased it with a prescription.
Watch: Best of the 2015 Tour de France
"With coffee [he would try to hide the drug's effect]. He would take his machine with him to races, drink five to six cups before coming down to breakfast. This helped fight the drowsiness that all the sleeping drugs leave. But he always had to up the doses, like a cat chasing his tail."
Paolini added, "The doctors would ask how it's possible to race." Besnati said today, "We would all ask."
Paolini went to a dependency clinic in Verona for help for two weeks in August and explained that he is "calm and balanced" now. He is waiting for a new trial with the UCI Anti-Doping Tribunal, which had offered him two-year ban instead of four years that he did not accept.
Thank you for reading 20 articles this month* Join now for unlimited access
Enjoy your first month for just £1 / $1 / €1
*Read 5 free articles per month without a subscription
Join now for unlimited access
Try first month for just £1 / $1 / €1