KOHL GETS TWO-YEAR BAN FOR CERA POSITIVE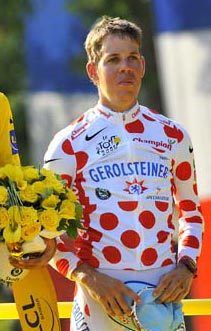 Austria?s Bernhard Kohl has been banned from racing for two years by the Austrian National Anti-doping Agency.
The former Gerolsteiner rider, who won the climber?s jersey and finished third overall in this year?s Tour de France, had hoped for a reduced ban after promising to give information about how he obtained the banned third-generation blood-booster CERA. However after a two and a half hour hearing in Vienna, the Austrians showed no pity and hit him with a full 24-month ban.
"He was asked where he got the substance and who helped him but would not give any answers," Andreas Schwab, the chairman of the Austrian NADA told the Reuters news agency.
Kohl had signed a contract with the Silence-Lotto team for 2009 but following his ban he will have to wait until the summer of 2010 before making a return.
Kohl?s Gerolsteiner team mate Stefan Schumacher also tested positive for CERA during the Tour de France but is fighting his case.
RELATED LINKS
Comment: Why more CERA positives are good for cycling
Kohl confirms he doped
2009 Tour of Germany cancelled
Stefan Schumacher tests positive at Tour de France
Piepoli latest CERA positive at Tour de France
Tour de France Cera test results set to emerge
Ricco banned for two years
McQuaid reveals how the UCI caught Sella
Ricco admits taking EPO before Tour de France
New drugs emerge
Saunier Duval sack Ricco and Piepoli
Thank you for reading 20 articles this month* Join now for unlimited access
Enjoy your first month for just £1 / $1 / €1
*Read 5 free articles per month without a subscription
Join now for unlimited access
Try first month for just £1 / $1 / €1