Koppenberg 'Cross: It's a killer!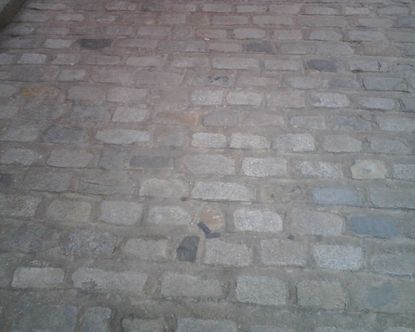 We have checked out the course at the Koppenberg 'cross and the general consensus is it's a killer.
The famous cobbled climb is no big deal. The course swings off about two thirds of the way up for a moment of brief respite before the ascending starts again, this time on cow-pat strewn grass and mud. Half of the under-23 field were off and walking here on the first lap. Race over.
What goes up inevitably comes down. The descent is something the good people of Gloucestershire would hesitate to roll a cheese down, let alone send their young men in hot pursuit. No such qualms from the Flandrians: the under-23 men picked their way off the hillside, and those without nerves of steel fell out of contention while the leading group slipped and slid back down to town.
This was the part of the course attracting most spectators. There are two considerations for the cyclo-cross spectator's positioning; the proximity of a beer tent and the likelihood of a crash. Their finely-tuned sense of smell allows them to detect the scent of blood over the beer and cigarette smoke - very impressive indeed.
It is not as muddy as Helen Wyman was hoping - the 2008 race was an utter mudfest - just a little sticky and slippy underfoot. Coming up next is the women's race, featuring Wyman and Gabby Day, then Ian Field takes on the all the big names in the men's, including Sven Nys going for a record-breaking seventh victory.
More later...
Day, Field and Wyman
Thank you for reading 20 articles this month* Join now for unlimited access
Enjoy your first month for just £1 / $1 / €1
*Read 5 free articles per month without a subscription
Join now for unlimited access
Try first month for just £1 / $1 / €1