Lance Armstrong ordered to pay $10million in SCA Promotions case
Lance Armstrong must pay SCA Promotions $10million directly after arbitrators found him guilty of "perjury, fraud and conspiracy"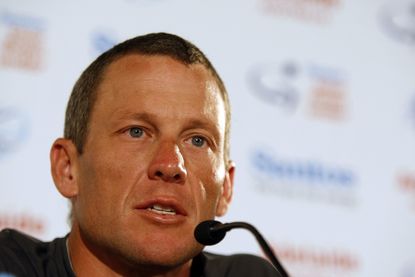 (Image credit: Yuzuru Sunada)
Lance Armstrong has been ordered to pay out $10million (£6.5million) in damages after losing his long-running case against SCA Promotions after an arbitration panel found in the company's favour.
Armstrong originally won a case against SCA Promotions in 2006, which was forced to pay the Texan former professional rider $7.5million in bonuses for winning seven editions of the Tour de France, 1999-2005. SCA had refused the payment due to a question mark over Armstrong's then alleged use of banned performance-enhancing substances.
During that court case, Armstrong swore under oath that he had never taken performance-enhancing substances to aid winning the Tour.
Lance Armstrong's partner Anna Hansen falsely told police she was behind the wheel after a car crash to 'avoid national
Armstrong has since admitted to doping during all seven of his Tour de France victories and was subsequently stripped of the wins and handed a lifetime ban. His admission was proof that he lied to gain the money from Dallas-based company.
A statement from SCA Promotions issued on Monday (February 16) confirmed that Armstrong and Tailwind Sports Corporation must pay the company $10million directly. According to the statement, the arbitrators said Armstrong had performed "an unparalleled pageant of international perjury, fraud and conspiracy".
"It is hard to describe how much harm Lance Armstrong's web of lies caused SCA but this is a good first start towards repairing that damage," said Bob Hamman, SCA Promotions president.
Armstrong still faces an even bigger lawsuit - a US Federal whistleblower case that could see him fined up to $100million if found guilty.
Thank you for reading 20 articles this month* Join now for unlimited access
Enjoy your first month for just £1 / $1 / €1
*Read 5 free articles per month without a subscription
Join now for unlimited access
Try first month for just £1 / $1 / €1