LANCE ARMSTRONG TO RIDE 2009 GIRO D'ITALIA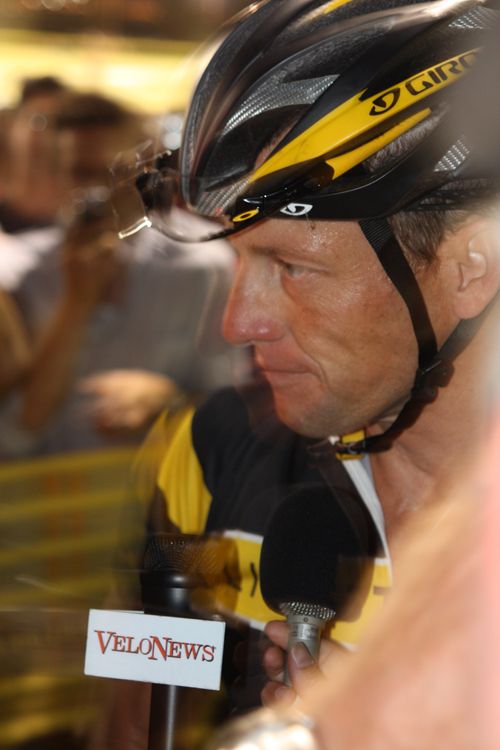 Lance Armstrong has confirmed that will ride the 2009 Giro d?Italia.
In a video message on the Gazzetta dello Sport website (www.gazetta.it), Armstrong said: ?Hello to all my friends in Italy. I have to tell you I'm so excited to tell you that I'm coming to the 2009 Giro d'Italia.?
?I raced for a long time but I never did the Giro d'Italia and it's one of the biggest regrets I've ever had, so fortunately for myself, I get to erase that regret and be at the 100 anniversary edition and who knows, maybe with a good result. I look forward to seeing you all. Arrivederci."
According to reports in Italy, Giro d'Italia race director Angelo Zomegnan travelled to Texas at the beginning of October to convince Armstrong to ride in Italy and as part of the deal it is believed the Texan may also ride Tirreno-Adriatico and Milan-San Remo.
The 2009 Giro d'Italia is the centenary edition of the race. The race is rumoured to start in Venice on May 9 and may finish in Rome on May 31. Further details of the route will be revealed at the official presentation in early December.
Despite suspicions of Armstrong?s, Zomegnan welcomed Armstrong with open arms, knowing his presence in Italy will give the Giro a huge boost in publicity.
?My relation with Lance has never ended even since his retirement in 2005. During one of our frequent conversations, I noticed the possibility that Lance might could make a competitive comeback,? Zomegnan said in a statement.
?Talks began between August 15 and mid-September and I officially invited Lance to the Giro d?Italia on September 29 when to his home in Austin, Texas.?
?After deciding to make a comeback, Armstrong knew he had to fill a gap (in his palmares): no great rider has ever not ridden the Giro d?Italia. Lance could also be the only rider to win the centenary edition of the Tour de France and the centenary edition of the Giro d?Italia. Thirdly, thanks to having lived in Como, Lance knows that the Italians are more supportive than any other cycling fans in Europe. It is also important to consider the Lance Armstrong Foundation project. The Giro could be the right place to tell people about the fight against cancer.?
In a written statement Lance Armstrong said: ?I?m coming to the Giro for lots of reasons. I?ve never ridden it and I want to fill that gap. It?s also the centenary edition of the Giro and I know what that means for the Italians.?
?Italy welcomed me when I was a young rider and I know I?ve got a lot of fans. Everybody is saying that I?ll use the Giro to get ready for the Tour de France but perhaps I?ll come to Italy to win and the Giro could be the three week stage race of my year.?
RELATED LINKS
Is the Giro to announce Lance Armstrong will ride 2009 race?
Armstrong rejects offer to re-test 1999 samples
Armstrong knew about six month rule
French offer Armstrong re-test of his 1999 Tour samples
Amrstrong hopes UCI show 'common sense' for Aussie return
Armstrong comeback in Tour Down Under faces possible delays
Watch Armstrong in Vegas 'Cross race
Armstrong confirms Ventoux time trial for 2009?
Armstrong's comeback starts in Australia
Wednesday Comment (September 24)
Contador says riding with Lance could be difficult
UCI president rubbishes Armstrong Tour buyout claims
Bruyneel talks up Armstrong's chances
The Wednesday Comment, Armstrong Edition (September 10)
Tour de France: Lance can race in 2009
Contador: Lance could win eighth Tour
Lance confirms 2009 comeback
Armstrong: No smoke without fire?