LANDLORD SHAMED AS HERNE HILL TRACK FALLS TO BITS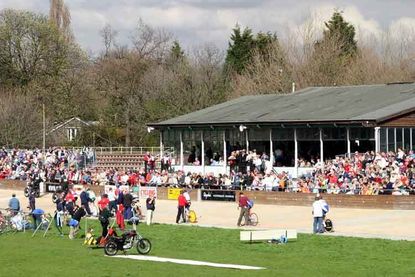 British Cycling?s offer to buy a 99-year lease on Herne Hill track and save the only 1948 Olympic Games venue still in existence has yet to receive a response from The Dulwich Estate landlord who, three years on, still holds out that a developer will build a health club there.
Says Peter King, British Cycling executive director: ?All this talk of 2012 and sport for the people, and this valued cycling site, this historic 1948 Olympic Games venue, is allowed to fall to bits.?
The government?s praise for Britain?s cyclists who topped the UK?s medal table in Beijing and the subsequent Knighthood for triple gold medallist Chris Hoy has had no influence on the snail-like pace of negotiations over Herne Hill?s future.
Under The Dulwich Estate?s watch, the grand stand has been declared unsafe and barred from use and ancillary buildings are barely fit for use. On one freezing night children ? future champions perhaps - did turbo training in unheated tents.
Volunteers from VC Londres charged with managing the track for British Cycling have been praises for striving week in and week out to keep the venue open.
No remedial work has been possible by British Cycling because, they say, John Major of The Dulwich Estate ? a registered charity ? has only ever agreed to renew the lease on an annual basis. VC Londres pay an annual rent of £9000.
"I think that with people like John Major of The Dulwich Estate, you are going to make more progress by shaming them then by any other means," says Peter King, executive director for British Cycling. "The last thing they want is to become the ?bad people?. It?s absolutely fair to say that even though we have managed to keep it open, the place is a shambles and progressively getting worse and worse. It?s a battle just to get the toilets changed.?
Against this backcloth of decay, the Southern Counties Cycling Union plans to host their annual and world famous Good Friday International Meet in 10 weeks time.
Kate Hoey to try and break deadlock between Southwark Council and landlord
The issues have led to arguments between Peter King, Executive Director for British Cycling, and John Hawkridge, chair of BC South East Region, over how exactly to force Dulwich Estate to make a decision.
King hopes BC?s offer will break the current impasse. If that doesn?t work, former sports minister Kate Hoey, the Mayor of London?s advisor on the 2012 Olympics and Sport, says she is ready to step in to try and resolve matters.
The issue is complicated, says King, because Southwark Council, who washed their hands of Herne Hill when their long running lease ended nearly four years ago, retained the lease on a strip of land running between two houses.
"This is a sticking point," says King. "Southwark say the strip of land is half the size of a house and so they want half the value of house which in that street run from £750,000 to £1.5 million."
Hawkridge ? a solicitor ? says that in his professional opinion, BC needs a plan B in case Dulwich don?t buy into their plan or renew the 12-month lease. He said his suggestion ? to start looking for an alternative venue ? 'went down like a cup of arsenic' with the Herne Hill Management Committee.
Hawkridge told CW. ?No one else seems to have any idea of how to get out of the current impasse and the comments that I have made only reflect the advice I would give to any commercial client in a similar situation - don't believe that your Landlord will resolve your problem as he exists to take advantage of it.
?If you don't want to be completely subject to his whim then find alternative premises. I fully appreciate that Herne Hill is unique - no one better than I - but that doesn't mean that it is not sensible to make plans for the loss of this wonderful and historic facility. Making those plans concentrates the mind not only of the prospective Tenants but also their Landlord who may, by playing it too close to his chest, lose his only viable tenant. I want that possibility to reach the ears of the Dulwich Estate."
King responded by saying: ?I understand his logic for that. And I know he (Hawkridge) has much more experience of legal issues and leases and property than I do, but I think the special situation in which we are with Herne Hill makes that perhaps not a viable option. ?There?s is absolutely no way can find a huge piece of land on which we can build a track. We might find a piece on which we can build a little track. Land in London is at a premium.?
We want to redevelop Herne Hill
King says he has spoken to Southwark and made it very clear to them that British Cycling really to want to get on and put in an alternative proposal to that which The Dulwich Estate have at the forefront of their mind ? a health club.
?We want to be given the chance to redevelop the whole site, whereas they want to have a commercial redevelopment with us taking a part of that.
"We have said to Southwark, we want you to release that strip of land back. But only in conjunction with us redeveloping it?s use as cycling specific."
"The sort of plan we have put to them will be less of a building than they?ve now got there. Sometime vaguely comparable to what?s been built at Hog Hill - a club house, to serve the needs of all the different cyclists."
King says he doesn?t think the health centre is going to happen, especially in this economic climate. He says BC must break the deadlock because otherwise the developer can just sit there and think to himself well until they?ve brokered that particular problem I don?t have to make a decision.
"If we get the strip of land resolved, then the developer has got to say, OK, I do want to go ahead or no, I don?t want to go ahead. At which point in time we are ready to say, well, alright we are ready to step in here."
John Major of The Dulwich Estate was unavailable to comment.
Thank you for reading 10 articles this month* Join now for unlimited access
Enjoy your first month for just £1 / $1 / €1
*Read 5 free articles per month without a subscription
Join now for unlimited access
Try first month for just £1 / $1 / €1
Keith Bingham joined the Cycling Weekly team in the summer of 1971, and retired in 2011. During his time, he covered numerous Tours de France, Milk Races and everything in-between. He was well known for his long-running 'Bikewatch' column, and played a pivotal role in fighting for the future of once at-threat cycling venues such as Hog Hill and Herne Hill Velodrome.