Laura Trott 'annoyed and frustrated' at insinuations about Team GB's success
The four-time gold medallist has given her thoughts on questions raised about Team GB's success at the Rio 2016 Olympic Games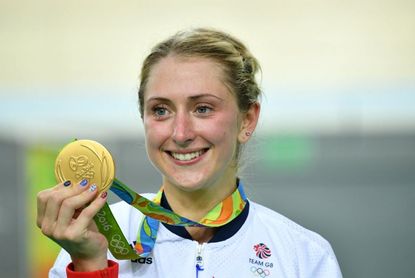 (Image credit: Watson)
Laura Trott has responded to rivals making insinuations and raising questions about British success at the Olympics.
Rivals have pointed to Team GB's relatively lacklustre showings at the Track World Championships in the years since London 2012, only for the riders to come out and win a plethora of medals in Rio.
Most vocal in her questioning was German track sprinter Kristina Vogel, who said: "I don't want to accuse anyone of anything but it is all very questionable".
Vogel beat two British riders on her way to gold, so any hint of wrongdoing seems even more misplaced.
Speaking on BBC Radio 5 Live Trott said: "[I'm] not angry as such, it is a little bit annoying and frustrating because it is a lot of hard work that has gone into that performance."
For British riders and especially for fans, the Olympics are the focus and the intervening championships will barely feature for a lot of spectators.
"British Cycling has always been an Olympics-based programme, so for us it wasn't about clearing up at the World Championships," Trott continued.
"Don't get me wrong, it would have been nice because they were in London, but it's always been around the Olympics."
Look back at the Olympics
Laura Trott on her dominant omnium performance: 'I didn't even feel that good'

Laura Trott wins omnium gold medal to become Britain's greatest female Olympian

Jason Kenny wins the keirin to take his sixth Olympic gold

'Spectacular, impressive, unbelievable': rivals react to Bradley Wiggins and GB men's team pursuit gold

UK Sport and the National Lottery pump huge amounts of money into elite sport, the legacy of which is intended to be mass participation.
Each Olympic medals costs around £4 million when UK Sport's budget is divided across the 67 medals collected in Rio. As such, a focus on the Games is an obvious approach for any sportsperson wanting continued funding.
"[The Olympics are] what our funding is pushed towards, that's where they spent our UK Sport money," Trott added.
"So for us it was about performing there and I think if we'd come away and under-performed at the Olympics, we'd have been gutted if we'd cleaned up at London because it would have meant we'd have peaked at the wrong time.
"And I think what a lot of other nations don't know, and what they don't see, is the fact that it doesn't really matter about the World Championships. It's all about the Olympics."
Thank you for reading 20 articles this month* Join now for unlimited access
Enjoy your first month for just £1 / $1 / €1
*Read 5 free articles per month without a subscription
Join now for unlimited access
Try first month for just £1 / $1 / €1