LIVINGSTONE WANTS TOUR BACK, DESPITE DRUGS PROBLEMS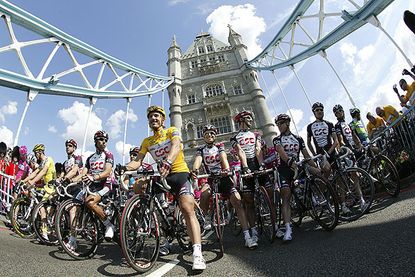 Mayor of London Ken Livingstone has said that the drug scandals of this year?s Tour de France would not deter him from hosting the race again, preferably before 2010.
?It?s a unique event, and I do not think a handful of riders breaking the rules diminishes the achievements of those who do not,? the Mayor said at his weekly press conference at City hall yesterday.
Following last month?s successful hosting of the Grand Depart from London and the first stage to Canterbury, talks have begun to host another a stage of the Tour.
Livingstone said: ?We?ve made it clear we want another Grand Depart as soon as possible, but that?s probably not for another six years.
?But we have also been negotiating with them to see if we can get a stage coming through London before 2010.?
An estimated two million people watched the prologue in London, and another 2.5 million watched the first stage through Kent to Canterbury.
Thank you for reading 20 articles this month* Join now for unlimited access
Enjoy your first month for just £1 / $1 / €1
*Read 5 free articles per month without a subscription
Join now for unlimited access
Try first month for just £1 / $1 / €1