Why London is getting funding for cycling and your city is not
The Government's Cycling and Walking Investment Strategy provides legislation for future infrastructure improvements, but targets are needed to ensure the right work is done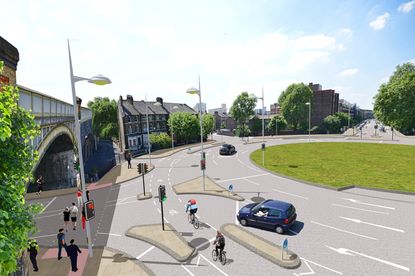 Get The Leadout Newsletter
The latest race content, interviews, features, reviews and expert buying guides, direct to your inbox!
Thank you for signing up to The Pick. You will receive a verification email shortly.
There was a problem. Please refresh the page and try again.
We've all heard about London's big plans for the bike, where £913m is being spent over ten years to "de-Lycrafy cycling", as Boris Johnson once put it. If UK cities were playing a game of cycling one-upmanship, London would easily be the guy - or woman- with the most expensive bike.
However, while long-term planning needs long-term funding, the latter has, for decades, been something the rest of the UK's cities can only dream of - for those who want to cycle, at least.
So why is this the case?
As Chris Boardman has said, as with a training plan, to get people cycling you need to set goals and break down how those goals will be achieved, to have a hope of success.
While London, Bristol and Leicester set goals to double their respective cycling levels within the next 10- 15 years and are putting their money where their mouth is with segregated cycle routes, many UK cities are unable to even accept they need mass cycling, let alone plan for it.
What successful cities share, meanwhile, is political leadership; mayors who realise mass cycling will improve their city and have bid for and allocated funding specifically to achieving it. London has Boris Johnson, Bristol has George Ferguson, and Leicester has Peter Soulsby. Importantly, these mayors have much greater control over funds and transport strategies than cities without unitary authorities. Unfortunately smaller towns and cities just don't have the same level of control over their own roads.
The bigger picture
Traditionally in the UK cycling money is drizzled out sporadically from Westminster to towns and cities in a format that couldn't be better designed to stifle long-term planning, unless there were no money at all.
Funding for cycling across UK is a paltry £2 per head per year, where the Get Britain Cycling report recommends a minimum of £10. This is peanuts when you consider the government's recently announced £15bn road investment strategy.
During the last tranches of cycle funding, only eight showcase cities were chosen to receive cycle funding above this low level.
Funding isn't the end of the problem, though: many of those eight recipients weren't aware they were getting a second tranche of money until it was virtually handed over to them in November - and the money comes with a two year deadline.
When you think it took London, with a committed team of staff and its own transport body, two years to get from idea to approval stage on the East-West cycle superhighway before a spade went anywhere near the ground, it's unsurprising smaller cities, with very little experience of building decent cycling infrastructure, struggle. After two years many cities can barely decide what to spend the money on.
A lack of political leadership goes all the way to Westminster, with one major stumbling block that there was no ongoing funding allocated to cycling - until now.
After years of campaigning for cycling, however, we stand on the cusp of an achievable plan for everyday cycling in the UK - and it comes with money attached.
It is hoped the Cycling and Walking Investment Strategy, approved by Parliament last month, will put an end to sporadic, showcase funding and give more of the UK a chance to get on their bikes.
This Strategy, part of the Infrastructure Bill, puts in place the framework mass cycling needs: goals must be set to increase the numbers of people cycling regularly, with deadlines to achieve this increase, and the amount of money to be spent. The "cycling minister" must then report on the progress of these goals.
The Cycling and Walking Investment Strategy represents the long-awaited plan, and the money, for increasing cycling across the UK, and gives towns, cities and rural communities outside of London a fighting chance of getting more people on their bikes.
Thank you for reading 20 articles this month* Join now for unlimited access
Enjoy your first month for just £1 / $1 / €1
*Read 5 free articles per month without a subscription
Join now for unlimited access
Try first month for just £1 / $1 / €1
Get The Leadout Newsletter
The latest race content, interviews, features, reviews and expert buying guides, direct to your inbox!