London's Embankment cycle superhighway is 'overrun by joggers'
Joggers, running 'three abreast' are causing an obstacle to cyclists trying to use the east-west cycle superhighway along Victoria Embankment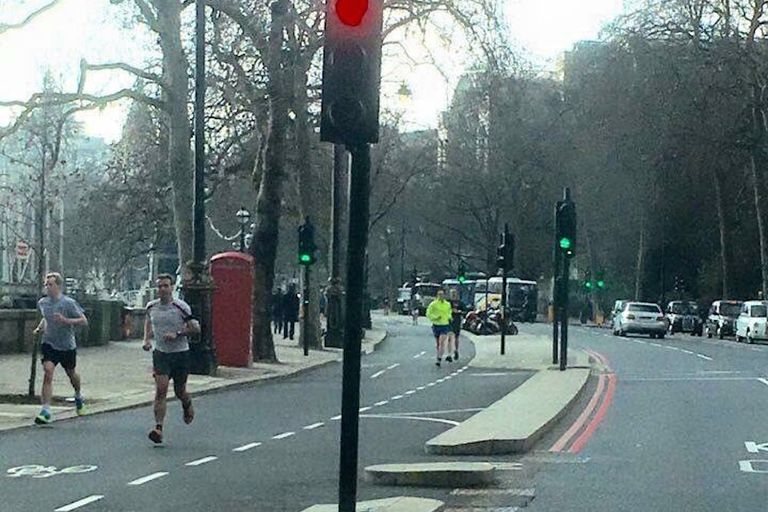 Cyclists in London have warned of collisions between cyclists and the growing number of runners who have taken to using the segregated cycle superhighway along the Victoria Embankment.
According to the Evening Standard, bike riders are being forced to swerve to dodge joggers on the riverside stretch of the East-West superhighway, claiming it is like "riding on the pavement".
>>> Cab drivers lose High Court challenge over east-west Cycle Superhighway
One cyclist took to the Cyclechat forum to ask whether the lanes were actually meant for shared use, saying some joggers were running three abreast, despite there being a pavement next to them.
"The numbers along there made me feel it was dangerous and we're going to be seeing an increase in number of collisions between cyclist and joggers," he wrote.
"Most had personal stereos so calling out your approach from behind/using a bell wasn't heard.
"It made me feel like I was cyclng along the pavement. God knows what its going to be like in the summer when all the fair weather runners emerge."
Transport for London says it cannot stop the joggers entering the cycle superhighway but hopes they will be deterred once it is fully open to riders.
"London's cycle superhighways are dedicated routes to encourage even more people to take up cycling," Nigel Hardy, head of road space management at TfL, told the Standard.
"The overwhelming majority of joggers stick to using the pavements."
>>> London's new East-West Cycle Superhighway expected to open on April 30
He added: "We cannot 'ban' pedestrians from entering the cycle superhighways. And once they are fully open, the volumes of cyclists on them will mean there is little or no attraction for joggers in using them."