Look at the incredible detail on this faux wooden track bike (video)
Looks can be deceptive when it comes to these bikes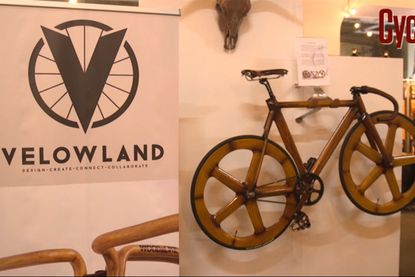 The intricate detail of Velowland's imitation wooden bike has to be not just seen, but touched, to be believed.
So fine is the paint job, that even up close you think you are looking at an incredibly well sculpted hunk of tree.
"It messes with your head a bit," admits the Dutch company's CEO, Sjoerd Linde.
He says people wonder: "'how do you make those shapes'. And [then] they touch it."
>>> Spin London: Britain's coolest bike show?
What actually lies beneath the incredible paint job is a relatively standard aluminium track frame equipped with carbon three-spoke wheels. So while it may look like it's been carved from a lump of wood, it should ride considerably better.
As Linde explains in our video, the woodgrain effect took between two and three months for artist Frank Everhardus to apply and involved eight different layers, including fine detailing with pencils.
"It all started with a conversation at my local soccer club," explains Linde. "Me and Frank were sitting down and I wanted to create a fixie. Frank told me about this ability to paint so it looks like wood but really isn't."
"It's a technique that originally comes from Dutch churches," Everhardus later told us.
>>> Why steel time trial bikes are making a comeback (video)
Based in Meppel, northeast of Amsterdam, Velowland have come to specialise in these deceptive kind of projects, often collaborating with other bike companies.
Although they originally started out under the self-explanatory title Woodalike they changed name after producing other fine finishes.
These include super polished chrome, bronze pipe and corroded copper looks.
For more, see http://velowland.com (opens in new tab)
Thank you for reading 10 articles this month* Join now for unlimited access
Enjoy your first month for just £1 / $1 / €1
*Read 5 free articles per month without a subscription
Join now for unlimited access
Try first month for just £1 / $1 / €1