Lord Tebbit gives an unpleasant response to cycle ride invite
An invite to join the annual Parliamentary Bike Ride did not go down well with Lord Tebbit, who branded it a 'foolish exhibition'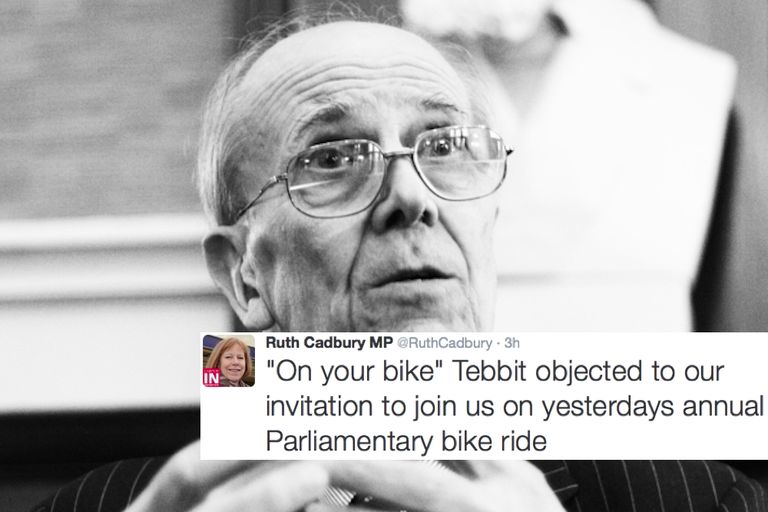 Lord Tebbit gave a slightly unpleasant response to an open invite to join the annual Parliamentary cycle ride in London on Wednesday, branding it a 'nuisance' and a 'foolish exhibition'.
The terse letter from the 85-year-old stalwart Conservative was addressed to Ruth Cadbury, Labour MP for Brentford and Isleworth.
>>> Chris Boardman pokes fun at British government's inadequate cycling strategy
"I was sorry to read in your recent circular of your proposal to increase peak hour traffic congestion in central London on Wednesday 8 June," Lord Tebbit wrote.
"Not only is that a nuisance, but by increasing congestion it will increase pollution."
"I suggest you cancel this foolish exhibition."
Cadbury published the letter via Twitter on Thursday morning, saying "On Your Bike - Tebbit objected to our invitation to join us on yesterday's annual Parliamentary bike ride".
Several Twitter users replied in dismay. Gerhard Weiss said: "Classic reverse psychology to blame supposedly increased pollution on those who work for better conditions for cycling."
Mark Strong pointed out: "Presumably he has same attitude to State Opening of Parliament? Causes lots more congestion."
Cadbury is a strong supporter of cycling, and is co-chair of the All-Party Parliamentary Cycling Group (APPCG). As such, Cadbury has been a key player in applying political pressure to up the investment in cycling and walking in Britain.