Luke Rowe column: A crazy bet over not wearing winter gloves
In his latest column for Cycling Weekly, Luke Rowe tells us of a bet he once had with another rider that he wouldn't wear gloves all winter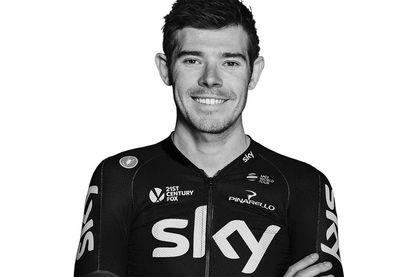 Welshman Luke Rowe is Team Sky's Classics specialist and often the team's road captain, and he writes exclusively each week for Cycling Weekly. He's also a huge Cardiff Devils ice hockey fan
A good amount of the racing I've been doing lately has been in cold and wet weather, and a lot of people have been asking why I wear so few clothes when the weather is bad. The simple answer is we're all different and I feel good when I'm wearing less.
I struggle to feel like I'm in a race when I am all rugged up. I especially hate racing with anything on my legs; if I'm going to wear leg-warmers it has to be pretty cold weather and I just feel like it's a training ride if my legs are covered up. Anyways — with some good, bad-weather heating oil on the legs I stay warm enough and feel race-ready.
One story I always think of when the weather gets bad and I have cold hands is from the winter of 2010. I was on the British Cycling Academy programme and based up in Manchester all winter — needless to say we had some bloody bad weather.
>>> Luke Rowe column: That was the hardest Paris-Nice I've ever done
During a moment of madness a bet was made between Erick Rowsell and myself. The bet was simple: you were banned from wearing gloves and whoever cracked and wore gloves first gave the other £100. We had super-early morning rides to the velodrome at 6.30am, sometimes with rain and in zero degrees but we would still ride there gloveless.
There were tactics involved, however. I just simply didn't take any gloves with me, ever, as that way I couldn't lose. No matter how cold my hands got on our long five-hour rides I didn't have any gloves to put on.
Erick, though, often put gloves in his pocket 'just in case', which in my eyes is even more hardcore as the temptation was there and he still resisted! Often we got home from rides and needed our room-mates to help us get our overshoes off, as we couldn't feel a thing for a good half hour.
As we came to the end of the winter and had gotten through the worst of the weather we made a mutual agreement to start wearing gloves again as the racing season was approaching. He's a tough one that Erick Rowsell!
So no matter how cold I get now training or racing I always think of that bet we made and remember how cold I was then — nothing can compare to that.
Thank you for reading 10 articles this month* Join now for unlimited access
Enjoy your first month for just £1 / $1 / €1
*Read 5 free articles per month without a subscription
Join now for unlimited access
Try first month for just £1 / $1 / €1