Make life harder for wheelsuckers
We've all been in a race or a group ride where some riders just won't take their turn on the front. Now, thanks to research in Australia, it's been shown how you can reduce the benefits to wheelsuckers whilst still gaining advantage from them being there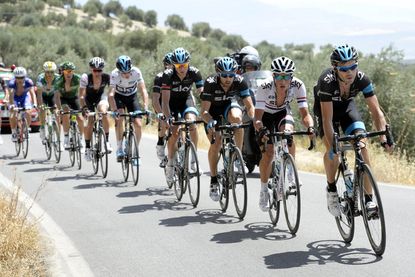 (Image credit: Graham Watson)
Wind tunnel tests have given new clues on how to make aerodynamics work for you - and against your rivals.
Up to 90% of a cyclist's energy is used to push air out of the way but it's possible to halve the effort by drafting - hitching a ride.
Now, for the first time in the real world, it's been proved that it's not only the cyclist in the slipstream who gets an easier ride. The lead rider also gets an aerodynamic boost from the wheelsucker - of more than 5%.
Before these Australian experiments, this magic boost for the leader had been only a theory, developed from simulations of airflow around virtual cyclists. Now we know it really happens.
>>> How to be more aero on your road bike (video)
The airflow leaving the front rider is smoothed, cutting turbulence and stopping a low pressure wake from holding them back, simply by having someone close behind.
How much difference does an aero bike really make?
Get help without helping
Of course, there's nothing more annoying than a persistent wheelsucker so it's good to see that the same research shows how a canny leader can still get a good boost but reduce the aero benefit being enjoyed behind.
>>> Should you really train like a pro?
The trick to make life harder for wheelsuckers is to keep the drafter away from the perfect following line. If their front wheel is as little as 27.5cm to one side of the leader's rear wheel, their energy savings plummet. Curiously, this has almost no impact on the 5% boost experienced by the leader.
The drafter may still be saving 20% of their energy but it's a lot lower than the 49% they'd save if they were allowed to follow the line exactly. Meanwhile, the aero boost to the leader barely falls at all.
>>> Tips for cycling and training in the dark
So, if you're in front and your rival won't take their turn, try to keep changing course. They'll have to work harder while still boosting you a little.
Sprint apart, not together
One more finding from the Australian wind tunnel tests confirms that when the wheelsucker decides to attack, it's best for you both to get as much distance as possible between your bars.
>>> Seven simple steps to be a successful cyclist
If you race shoulder to shoulder each of you will be fighting 6% more drag than if you're side by side but 1.5 metres apart.
"The effect of spatial position on the aerodynamic interactions between cyclists" by Nathan Barry, John Sheridan, David Burton, Nicholas A.T. Brown is published in Procedia Engineering 72
Max Glaskin is an award-winning freelance journalist who tweets about cycling and science as @CyclingScience1 (opens in new tab) and is the author of Cycling Science (published by Frances Lincoln UK, Chicago University Press USA, and seven other languages).
Thank you for reading 10 articles this month* Join now for unlimited access
Enjoy your first month for just £1 / $1 / €1
*Read 5 free articles per month without a subscription
Join now for unlimited access
Try first month for just £1 / $1 / €1