'Manipulation, intimidation, fat shaming, bullying...': allegations made against women's team manager
Dutch paper highlights allegations against Cervélo-Bigla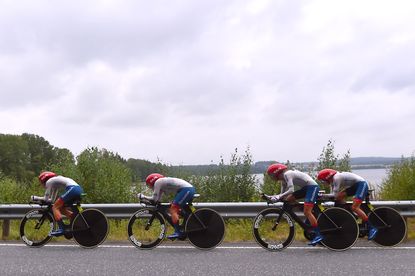 (Image credit: Getty Images)
An article in a Dutch newspaper has accused the manager of the women's Cervélo-Bigla women's team of conducting a "reign of terror" on his riders. The article in de Volkskrant reports incidents of questionable or unethical treatment by team owner Thomas Campana.
The article also details how the UCI Ethics Commission were consulted but failed to take any action, despite the issues being referred there by the organisation's own women's cycling coordinator.
Campana has denied all wrongdoing, saying: "If you feel good mentally you can achieve success. Our programme is based on that." He also denies giving his riders health or diet advice.
In the article a number of riders allege that Campana ignored their medical issues.
In the 2015 Giro Rosa Doris Schweizer crashed, and while she was unable to recall the crash and suffering blurred vision, Campana made jokes about her condition. Only after racing the following day and consulting the team doctor by telephone was she allowed to quit the race.
Now manager at Team Virtu, American Carmen Small had similar issues after previewing the 2016 Tour of Flanders when she suffered heart palpitations. Despite reporting this to Campana, she alleges she was not taken to hospital until late that night, where she was administered blood thinners and kept in for observation.
Further allegations are that that on a 2015 training camp in Fuerteventura he refused to allow two young riders to eat carbohydrates and allowed them only water on rides because they were too fat.
One of the riders on the team at the time was Iris Slappendel, who with Small helps run the Cyclists' Alliance, a staff association for female professionals.
In 2016, after she had left the team, she presented the the UCI's Ethics Committee with 35 pages of evidence, including personal statements of 10 riders. Between them they accused Campana of "manipulation, intimidation, fat shaming, bullying and non-payment of salary and prize money."
However, the UCI would not accept anonymous allegations and a number of riders retracted their evidence. Then, despite riders now identifying themselves, Slappendel was informed that the allegations pre-dated the organisation new code of ethics and that Campana could not be help liable.
All the allegations made in the Dutch article occurred during the 2015 and '16 seasons, and it does not suggest such practises are ongoing. However, it does state that Campana has denied all wrongdoing and never gives health or diet advice.
While the UCI has not responded to the Volkskrant article, in recent months they have announced changes to regulations surrounding women's teams. In 2020 five new Women's WorldTeams will be established, that number rising to 15 by 2022.
However, while these teams will be subject to tighter controls form the governing body, riders in squads not at the top level may suffer the same abuses.
"Many of the problems you now see will continue to exist because nothing changes for the teams that do not become WorldTeam," Slappendel asserts.
Cervélo-Bigla have made great strides recent years, bagging podium finishes in the team time trial world championships in both 2016 and '17. However, they were absent from this year's race and also missed a number of the late season WorldTour events.
With Cervélo sponsoring Sunweb next year, they will ride as Bigla Pro Cycling in 2019 and have recently recruited two British riders.
Sophie Wright signed for the Danish registered team after winning the British National Women's Road Series, while Lizzie Banks will join next season after riding for the now defunct UnitedHealthcare team.
Thank you for reading 20 articles this month* Join now for unlimited access
Enjoy your first month for just £1 / $1 / €1
*Read 5 free articles per month without a subscription
Join now for unlimited access
Try first month for just £1 / $1 / €1