Mario Cipollini gets naked to promote mystery bike
Italian former pro Mario Cipollini proves he's still adept at generating publicity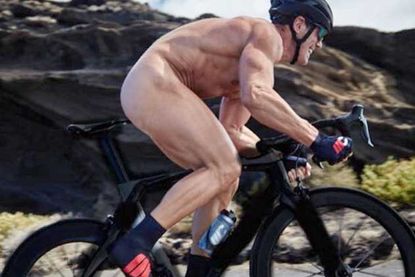 (Image credit: Mario Cipollini/Instagram)
Mario Cipollini continues to cause a stir in the cycling community despite being retired from pro racing.
The 50-year-old flamboyant former Italian sprinter posted a photograph of himself riding one of his Cipollini bikes wearing nothing but shoes, socks, gloves and a cycling helmet.
Never one to shy away from a bit of showmanship, Cipollini was using the image to tease viewers about a new bike.
The bike itself was obscured, but 'Super Mario' looks like he has been keeping himself in shape since finally retiring in 2008.
"We got naked ... And soon we'll show her too" Cipollini said in a caption next to the image.
>>> Mario Cipollini: 'Vincenzo Nibali is the only Italian rider with talent'
The image was posted along with another photo and a short video for Cipollini bikes, the brand he started in 2010.
During his pro career from 1989 to 2008 Cipollini amassed a total of 191 victories, including 42 stages of the Giro d'Italia, 12 in the Tour de France and three in the Vuelta a España. No rider has ever won more Giro stages.
Among his one-day race victories he counts the 2002 road race world championship and 2002 Milan-San Remo.
Thank you for reading 5 articles this month* Join now for unlimited access
Enjoy your first month for just £1 / $1 / €1
*Read 5 free articles per month without a subscription
Join now for unlimited access
Try first month for just £1 / $1 / €1