Mark Beaumont nears half-way mark in his around the world record bid
The British rider is attempting to cycle round the world in 80 days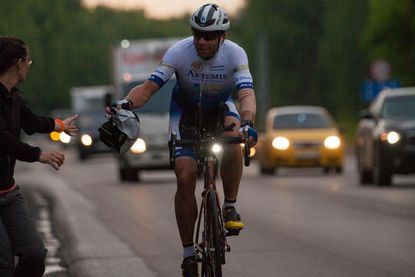 British ultra-endurance cyclist, Mark Beaumont, has edged closer to his aim of cycling around the world in 80 days by having completed just under half of his 18,000 mile bike trip.
In an attempt to break a world record and become a modern-day-cycling Phileas Fogg, Beaumont has racked up just under 9,000 miles in 38 days, riding 240 miles every day as he continues his journey round the South Australian coast.
His trip didn't get off to the best starts though when Beaumont crashed after just nine days in the saddle. "I didn't know how serious it was for the first couple of minutes." he said, "I thought I had lost my front teeth, and done a lot more damage than I had."
Beaumont had cracked his front tooth and injured his elbow after hitting a pot hole in the road but thankfully the Brit managed to ride on after some quick treatment.
>>>Read: London Edinburgh London and the rise of the Audax
Currently riding in the second stage on his trip around Australia and New Zealand, Beaumont has already ridden from Paris, France across Germany, Poland, Russia, Mongolia and China to arrive in Beijing.
From there he grabbed a flight to Perth, Australia with only seconds to spare, after a Chinese Border snafu nearly saw his attempt thwarted.
Beaumont is aiming to raise money for both Twinkl, who create educational material for primary schools around the globe, and Orkidstudio, a humanitarian architectural charity which he has worked with for the last decade. You can help sponsor Beaumont by texting 'ORKD80 £10' to 70070 or at by visiting his fundraiser page. (opens in new tab)
Stage three of Beaumont's ride will start in Anchorage, USA where he'll travel to Halifax, Canada before flying to Lisbon for his final stage. The Brit is on course to finish back in Paris on September 21, 2017.
Thank you for reading 10 articles this month* Join now for unlimited access
Enjoy your first month for just £1 / $1 / €1
*Read 5 free articles per month without a subscription
Join now for unlimited access
Try first month for just £1 / $1 / €1