Mark Cavendish's Scott F01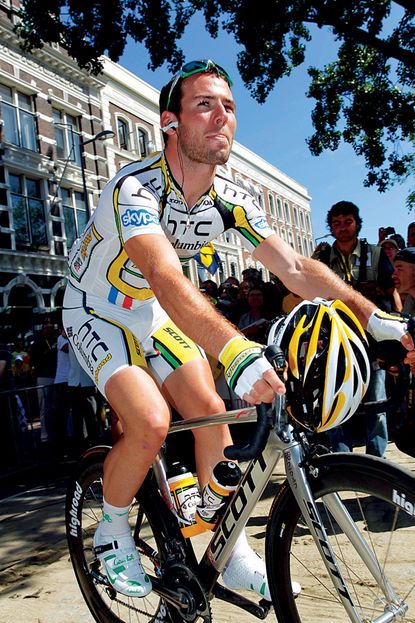 The F01 is Scott's first foray into the aero road bike world and claims to reduce air drag by more than 20 per cent compared to its Addict frameset which has been used so successfully by the HTC-Columbia team over the past couple of seasons.



This special samurai paintjob on Mark Cavendish's new F01 frame was Cavendish's own idea, according to his HTC mechanics. You don't have to get very close up to see the blood-splattered silver finish, but get nosy and you're rewarded with a stylised, sword-wielding samurai on the downtube, plus scenic Japanese villages stretching off into the distance.
Up front, Cavendish uses his own reinforced, signature Pro bars and stem painted to match the rest of the bike's design. The devil or, in this case, the samurai is in the detail. One of the HTC mechanics wanted to point out that the black aero seatpost was about to be changed to a more homogeneous silver hue, which would also complement the silver and red Fizik Arione saddle and help disguise even further the very neat and aerodynamic seat clamp, which is integrated into the top of the frame itself where it meets the seatpost.
Cav has used Shimano's electronic Di2 groupset on various occasions in the past, but has plumped for the mechanical and equally excellent Dura Ace 7900 for the Tour de France, perhaps preferring, we guess, the clearer definition between an upshift and a downshift that the Dura-Ace 7900 provides compared to the more closely positioned 'up and down' buttons of the Di2. Wheel-wise, it's Zipp 404s for Cavendish, shod with Continental Competition tubs.
Yuzuru SunadaPower meter: Cavendish's signature super-stiff PRO Vibe Sprint stem also gets the custom treatment, while a matching red RM Power Meter keeps Cav abreast of how much power he's producing.
Way of the warrior: This sword wielding samurai takes centre-stage on Cav's down tube. The frame's design is kept clean, resulting in a perfect blank canvas for such designs thanks to internal

cable routing.
Graphics: Small details like this traditional Japanese village really set Cav's F01 paintjob apart.


The frame: The design of the F01 frame was developed by Scott in conjunction with Simon Smart

of aerodynamics experts Velo Science. It may not look like a particularly aero aero road bike, but a closer look at the F01's shape reveals more angles than a trigonometrist's toolbox.
Seatpost: The HTC Columbia mechanics were awaiting delivery of a matching silver seatpost when we spoke to them. Note the extremely neat seat-binder bolt that is an integral part of the frame.


This article first appeared in Cycling Weekly magazine Thursday July 8th
Thank you for reading 20 articles this month* Join now for unlimited access
Enjoy your first month for just £1 / $1 / €1
*Read 5 free articles per month without a subscription
Join now for unlimited access
Try first month for just £1 / $1 / €1