Marmotte Gran Fondo Écosse: New closed roads event in Scotland
Kilmarnock hosts the Marmotte Gran Fondo Écosse over September 24-25, which includes a time trial and mass participation ride over closed roads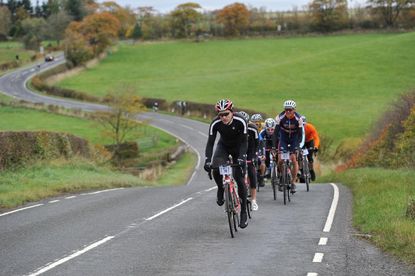 (Image credit: Joolze Dymond)
The organisers of the successful Tour of Cambridgeshire have announced details of a new event for 2016: the Marmotte Gran Fondo Écosse over September 24-25.
Following the same format of the Tour of Cambridgeshire, the Marmotte Gran Fondo Écosse presented by Braveheart features a time trial and a mass-participation ride on closed roads.
Both events take place in Kilmarnock, East Ayrshire, Scotland, with the time trial being run over a 20km (12.4 mile) route on the Saturday and the Gran Fondo taking in 137km (85 miles) and 1500 metres (5000ft) of climbing on the Sunday. The time trial is limited to 600 places.
>>> 6,000 riders to take part in Tour of Cambridgeshire Gran Fondo
Gran Fondos differ from sportives in that there is a race at the 'front' of the event with a prize list. Riders choose to either take part in the race, or simply ride at their own pace to achieve a time or enjoy the scenery.
The event will be part of the European Marmotte series of events, which includes the Alps, Sestrierre and Pyrenees Marmotte Gran Fondos. More information can be found on the Marmotte Gran Fondo Écosse website.
Watch: What to pack for every sportive
"I am delighted to be able bring this iconic brand and event to such a beautiful part of the United Kingdom," said Tom Caldwell of organiser The Very Cool Events Company Ltd.
"The Tour of Cambridgeshire was such a success that it paved the way for us to have this event incorporated within the prestigious Marmotte Gran Fondo Series. I am also delighted to be working with the Braveheart Cycling Fund, helping to raise their profile and raise funds for such an incredible cause supporting young riders in Scotland."
Entry to the time trial costs £50, and the Gran Fondo costs £68.
Thank you for reading 20 articles this month* Join now for unlimited access
Enjoy your first month for just £1 / $1 / €1
*Read 5 free articles per month without a subscription
Join now for unlimited access
Try first month for just £1 / $1 / €1