UCI confirm Matthias Brandle to attempt the Hour Record on October 30
Austrian rider will try to break Jens Voigt's record at the World Cycling Centre velodrome in Aigle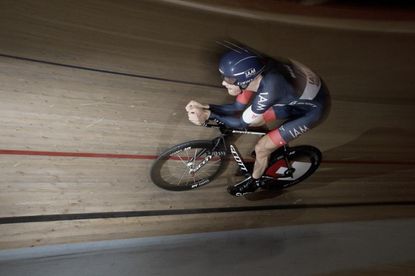 You wait nine years for an Hour Record attempt and then two come along in the space of a couple months, as Matthias Brandle is set to go out and try and beat Jens Voigt's Hour Record, the UCI confirmed on Thursday.
The 24-year-old IAM Cycling rider will make his attempt on the 200m track of the UCI's World Cycling Centre velodrome in Aigle, Switzerland, exactly six weeks after Voigt set the new record of 51.115km at the Velodrome Suisse.
Brandle's team estimate that he'll be able to ride around 52km after recent tests, and that he will make his attempt at 7pm on Thursday, October 30.
Brandle, who is the current national time trial champion of Austria, took two stages at the Tour of Britain earlier this year, says he is "100% focused on this project."
"After he [Jens Voigt] made his successful assault on the Hour, I thought he had fulfilled his dream," Brandle said, "and within just a few weeks I surprised myself by starting to have the same dream."
"As of today," he continued, "I do not know whether I can beat the mark or not. But as usual it will be a very personal struggle between me and the clock."
UCI president Brian Cookson said he was pleased that Brandle was taking on the challenge, as well as saying that it justifies the rule change made to the Hour Record by the sport's governing body earlier this year.
"I am delighted that a young rider [Brandle] is interested in attacking the Hour Record just weeks after Jens Voigt's stunning performance," said Cookson.
"This proves that the Hour Record has again become a dream for athletes," he added.
"This is exactly what we hoped would happen when we decided to authorise the use of track bikes with modern designs and technology."
Time trial specialists like Bradley Wiggins, Tony Martin and Fabian Cancellara have all been tipped to have a tilt at the prestigious record, but as of yet none of them have set a firm date on when they might make an attempt, although Wiggins indicated he may try it in June 2015.
http://www.youtube.com/watch?v=47bmQXlU5fU#t=28
Matthias Brandle keeps peloton at bay to take solo win in Exeter on stage five of the 2014 Tour of
Bradley Wiggins says he was inspired by Jens Voigt's new Hour record
Credit: Ulf Schiller
Jens Voigt closes career with new World Hour Record of 51.115km
Thank you for reading 5 articles this month* Join now for unlimited access
Enjoy your first month for just £1 / $1 / €1
*Read 5 free articles per month without a subscription
Join now for unlimited access
Try first month for just £1 / $1 / €1