New Zealand cyclist spends $5,000 fighting for his right to ride in just a g-string
Nick Lowe has spent $5,000 fighting a $200 fine he received for cycling in the nude and has come out on top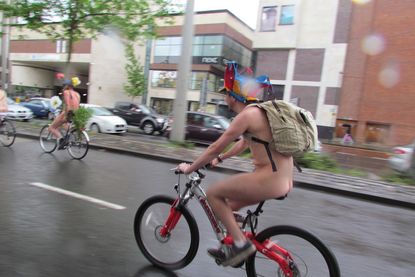 While the weather in Britain is a bit nippy at this time of the year, in New Zealand it's perfect weather to get out on the bike in just a jersey and shorts.
One fella in Marlborough - one of the sunniest and driest regions in the country - prefers to eschew the jersey and shorts, though, preferring instead to don just a G-string and helmet.
>>> World Naked Bike Ride cyclist warned by police for being 'overexcited'
Nick Lowe, a fire risk assessor and keen naturist, was once fined $200 for cycling in the nude, but spent $5,000 successfully fighting the fine in court.
"It was a very stressful time," he told Yahoo News. "But I thought I'd go in balls-and-all and fight the conviction. It cost $5000 to defend the $200 fine, but it was about the principle."
Mr Lowe, who reportedly wears g-strings that his wife makes for him, insists he doesn't aim to offend people with his choice of riding attire.
>>> Mario Cipollini's response to criticism for not wearing a helmet is slightly x-rated
"If there's a big group of people, you're more likely to offend someone. I could walk down Lambton Quay in a G-string and no one could do anything, but I wouldn't do that," he said.
With World Naked Bike Ride coming up on March 12, Mr Lowe will likely have some company on his free and easy rides.
Thank you for reading 20 articles this month* Join now for unlimited access
Enjoy your first month for just £1 / $1 / €1
*Read 5 free articles per month without a subscription
Join now for unlimited access
Try first month for just £1 / $1 / €1