Nine-year-old boy who climbed the Col du Tourmalet in 2016 adds London-Paris to his palmarès
Alfie Earl now sets his sights on the Col du Galibier in July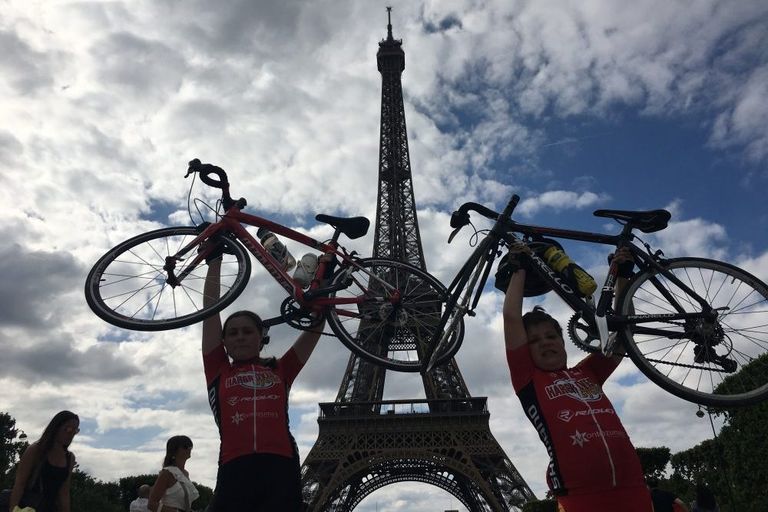 (Image credit: Steve Earl)
Alfie Earl has become the youngest known rider to cycle from London to Paris as he completed the 432km ride on Tuesday afternoon, four days after setting off from London.
Alfie and his 12-year-old sister Saskia tackled some inclement weather and a lumpy route as they rode towards the French capital, keeping enough in their legs for a sprint finish underneath the Eiffel Tower.
This is not the first time that Alfie has hit the headline for his cycling exploits, becoming the youngest rider to scale the Col du Tourmalet last year, and going on to conquer the Passo dello Stelvio and Mont Ventoux.
Alfie's most recent ride was to raise money for two charities: Cancer Research UK in memory of his grandmother who died in November; and Great Ormond Street Hospital, where his younger brother Ivan had life-saving heart surgery aged 18 months.
Speaking after finishing the ride, both Alfie and Saskie said that although the ride was hard, they were always determined to reach Paris
"A year ago a lot of people didn't think I could do this," Alfied said. "Some people think a boy this young shouldn't even try it. I do it because I want to though, and I feel proud, and I have been helping lots of people by doing this ride."
Saskia echoed the thoughts of her brother: "It was really hard at times and sometimes I wanted to stop but I did this in memory of my granny who died in November, and when I got to the Eiffel Tower it was amazing."
Alfie had initially aimed to climb the Tourmalet, Stelvio, and Ventoux, and ride from London to Paris before his 10th birthday, but with those completed he has now set his sights on climbing the Col du Galibier in July.
We'll keep you updated on how he gets on.