No knee problems in 17 years as a pro, and Thomas Voeckler breaks his knee cap riding to the beach with his son
At least he doesn't have to get back on a bike any time soon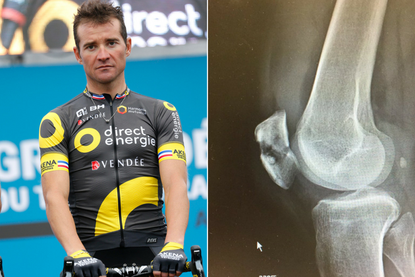 (Image credit: Sunada/Twitter/Thomas Voeckler)
With training regimes racking up tens of thousands of miles per year, it's no surprise that a lot of professional riders suffer from knee pain.
However Thomas Voeckler was one of the lucky ones, never suffering any knee problems through 17 years as a professional rider, despite the punishing training and his eccentric riding style.
>>> Cycling knee pain: everything you need to know
Having retired after this year's Tour de France, Voeckler might have thought that the danger was behind him, but didn't bet on a ride down to the beach with his son, where he apparently fell off and fractured his right knee cap.
"When you get through 17 years, and then going to the beach with your son and you fracture your knee," the former French rider wrote on Twitter.
If Voeckler wants to take any solace from the timing of the injury, then at least he won't have to rush to get back on a bike and try to train for another season of racing.
Thank you for reading 20 articles this month* Join now for unlimited access
Enjoy your first month for just £1 / $1 / €1
*Read 5 free articles per month without a subscription
Join now for unlimited access
Try first month for just £1 / $1 / €1