Voeckler's last stand: riders and pundits pay tribute to fighting Frenchman riding his last Tour de France
Fan favourite will hang up his wheels on the Champs-Elysées on July 23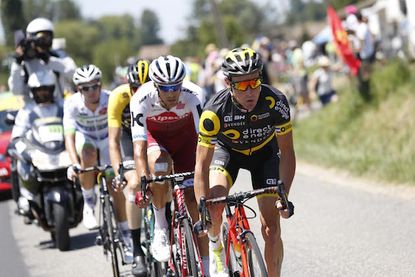 (Image credit: Yuzuru Sunada)
Get The Leadout Newsletter
The latest race content, interviews, features, reviews and expert buying guides, direct to your inbox!
Thank you for signing up to The Pick. You will receive a verification email shortly.
There was a problem. Please refresh the page and try again.
When the Tour de France reaches the Champs-Elysées in Paris on July 23, Thomas Voeckler, one of the most dynamic and animated riders of his generation, will hang up his wheels and retire after a career spanning 18 years.
The 38-year-old Frenchman is a breakaway master, a tactical king with a knack for catching the peloton off-guard and riding away solo and an entertainer, with an instantly recognisable gurning grimace, complete with lolling tongue, as he gets into his full attacking flow.
His style of riding and love of the cameras, particularly when he launches a breakaway attempt that's almost always futile, may mean people love him and love to hate him in equal measure. But to the French public Voeckler symbolises everything they adore about cycling: the importance of never giving up and the belief that the little guy can come out on top.
It's far from a coincidence that Voeckler has chosen to stop after the race that he has become identified with. It is at his home Grand Tour he feels most comfortable and where he has enjoyed the most success, clocking up four stage wins, a fourth place overall, one King of the Mountains classification victory and 20 days in the maillot jaune, before this year's race began.
>>> 'There is not a moment he can relax': Ag2r La Mondiale promiase to keep attacking Chris Froome
Voeckler made an impression almost instantly on the Tour, when aged just 25 in only his second appearance in the race in 2004, he wore the maillot jaune. Wearing the French tricolore from the National Championships he'd won just a week before, Voeckler got into a five-rider breakaway on stage five — which finished over 12 minutes ahead of the peloton after a crash held up the main bunch — and took the race leader's jersey from Lance Armstrong.
He went on to keep hold of yellow for 10 days and only lost it on the first day in the Alps, when Armstrong — then the three-time Tour champion who would go on to win his fourth title that year — chased Voeckler down with his US Postal squad.
The race that year endeared him to the public — the young Frenchman taking on the might of Armstrong and his team — a position that he would grow to relish as his career went on.
His first stage victory in the race came in 2009, after he attacked near the finish, having spent the day in the break. It set a pattern that would become familiar, starting from a moment of pure individual power and a touch of trickery to break away from the rest of the field.
Voeckler said he will leave the sport with "no regrets, but not without emotion" — just how his riding has been.
Watch: Tour de France preview: what will happen in week three?
Michael Rasmussen: "He put French cycling back on the map"
Former pro rider and now cycling pundit Michael Rasmussen rode at the 2004 Tour de France when Voeckler held the maillot jaune for the first time in his career:
"Voeckler was one of a whole bunch of young, very talented riders coming out of the Mapei youth team," Rasmussen tells Cycling Weekly.
"There was one particular stage to Plateau de Beille [stage 13] I remember well. I was in the breakaway that day for five, six hours with Jens Voigt. Thomas [wearing the yellow jersey] was hurting a lot and got dropped from the front group and then came back. I think he eventually defended the jersey by a very few seconds. On that climb he came by me in the end and I just remember him doing all his grimaces, working in order to make it to the line just in time.
"There weren't that many big mountain stages in the Tour that year to lose the jersey, so he got a pretty solid lead going into the mountains. It wasn't a big surprise [that he held the jersey for 10 days], and nobody expected him to keep it to the end. He wasn't considered as a GC contender, but he certainly fought very hard for it.
>>> 'It's to be expected': Chris Froome brushes off fans' boos on stage 15 of the Tour de France
"He turned into the darling that he still is to the French public in those 10 days and that's never left him. He made a strong impression on everybody.
"He's always raced very aggressively, sometimes doing crazy things and he certainly likes the TV cameras a lot, either in front of the peloton or in the back. Wherever there's a camera he's always there. I remember later on it became sort of annoying; we just knew whenever there was a motorbike with a camera you would have Voeckler coming by you to get in front of it. You can't take away from him that he's a fantastic cyclist.
"He will definitely leave the French public with some kind of vacuum, because of the character he is. He and [Sylvain] Chavanel are the ones that have been there for almost two decades. They were the ones bringing French cycling back on the cycling map when they started racing."
Cadel Evans: "Allez Thomas!"
Australian Cadel Evans went on to win the Tour in 2011, the second year Voeckler wore the yellow jersey and finished fourth overall. He recalls stage 10, the day that Voeckler first moved into the race lead.
"I remember the day Voeckler went away in the breakaway to take yellow; it was raining and we were coming down this big road that had this right turn," he says. "George Hincapie [Evans's BMC team-mate] was taking me around the side of the climb.
"We had a really aggressive start to the race and we took this right turn into a narrow road and that's where this pretty short and steep climb was. I think we went over a bridge so it was narrow, and the [group] started to split in front of us. We were quite close and George just looked at me and looked at the gap in front and did his last effort to take me to the back of the splintering peloton.
"I remember riding and looking at my power on my SRM, and heard that an attack had gone, and that it was Voeckler. I was doing some maths in my head and busting up this climb and I said, 'Whoever goes now deserves to win.' I was riding at a very high level just to stay in the peloton, so for a rider to then hit out over the top of that — I thought, that's good.
>>> 'I thought I should go back, but that would look stupid': Guillaume Van Keirsbulck's 190km solo break
"He can do these really strong punches when everyone's in a really fatigued state.
"He's been a breakaway specialist for his whole career, he reads the race very well and he has this ability to be there when it's hard. We're talking about a peloton of 190 riders, and when 160 of them have been dropped it's hard, and to punch away from this and ride into a breakaway to the finish takes a great deal physically, plus the nous and the feel to wait for the right moment.
"I thought he would crack earlier than he did, that he held on for so long in the yellow jersey surprised me. He held onto the yellow much longer than anyone expected.
"What will his legacy be in the Tour de France? 'Allez Thomas! Allez Thomas!' I will remember him as one of the best breakaway riders of my generation."
Pierre Rolland: "This guy is unbelievable"
Pierre Rolland spent seven years racing alongside Voeckler at Europcar — now Direct Energie — and the squad Voeckler spent almost all his career with. The pair raced together at the 2009 Tour and in 2011 when Voeckler wore yellow and Rolland won his first Tour stage on Alpe d'Huez.
"I was really happy to ride with Voeckler because I have a lot of respect for this man; this guy is unbelievable," Rolland recalls.
"Now I hope he has a good retirement and a new life. I know for him it's been hard to leave home [to travel to races] up until now because he has two kids, but I'm really happy to have ridden with this man. He's my friend, he came to my wedding and he's an important person to me.
"Voeckler is all the time trying, he is all the time doing; nothing is impossible. You do not get like this after one week but maybe after two, three, four, five years. This man is one good example for this because when Voeckler started professionally he didn't have good [results] for two years, and three years, and then bit by bit the results came. He's an unbelievable worker.
>>> Analysis: Froome and Landa's Tour de France strength could be a problem for their rivals - or for Team Sky
"I rode the Tour de France in 2011 with Voeckler, and I worked to support that yellow jersey. Every day I thought, 'OK, today is the last day,' and again you have yellow, then tomorrow for sure he will lose the yellow jersey, then he had it again, again, again. One moment I thought maybe it was possible that he could win the race.
"On stage 19 to Alpe d'Huez [when Voeckler was struggling and would eventually lose the yellow jersey], he told me to ride for myself and try and win the stage. He said, 'Pierre, you go, don't wait for me,' and I went and thought, 'OK, if I go it's for the win.'
"I had one big pull in my legs on all of the climb up Alpe d'Huez. I thought, 'Thomas is behind me, I'm not in the front with him to finish second.' I felt I had to win that day."
Alex Roos: "His legacy is his spirit"
L'Equipe journalist Alex Roos has followed Voeckler's career for a number of years. He explains why the French people love Voeckler and what kind of legacy he will leave in the sport.
"I think Voeckler is quite popular because he is really linked to the Tour de France, first when he had the yellow jersey in 2004 and again in 2011," Roos says. "I think 2011 had a major impact on his career and his popularity because he held the jersey for 10 days, more and more French people were following him day after day. French people always love underdogs and that year Voeckler was clearly an underdog against the likes of Evans and Andy Schleck.
"They like him because he represents the fight of small riders against the big ones. He has a very precise sense of racing, he knows exactly how to handle any situation and also he is always on the attack. French people don't like the conservative side of some riders, they really like guys who attack. Voeckler is the typical French baroudeur.
"I would say that his legacy would be more his spirit than his wins, because we now have more talented French riders. We should have a winner of the Tour in maybe five or six years so Thomas Voeckler would be forgotten for that. For me his true legacy would really be his state of mind — always aggressive, always trying to win a stage."
Thank you for reading 20 articles this month* Join now for unlimited access
Enjoy your first month for just £1 / $1 / €1
*Read 5 free articles per month without a subscription
Join now for unlimited access
Try first month for just £1 / $1 / €1