OLYMPIC ROWING CHAMP CRACKNELL MEETS HIS MATCH IN ROLLER RACE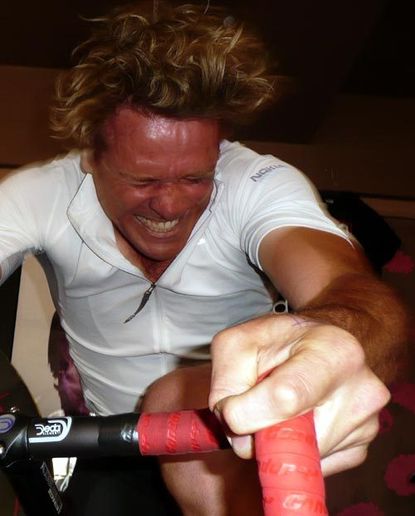 It was a rare moment, to be able stand right in front of double Olympic rowing gold medallist James Cracknell and look into the whites of his eyes as he thrashed a bike to pieces in a 500-metre sprint!
But it can only happen at roller-racing, the popular 1950?s sport making a popular comeback with Rollapaluza.
Because otherwise, you?d get flattened. It was a special moment because the celebrity was Sydney Olympic?s hero James Cracknell, one of the famous four rowers who skulled to gold in 2000, and who has since become a convert to cycling.
He was taking part in a National Bike Week challenge arranged by sponsors Nokia who are keen to flog their ?tracker? navigation systems for cyclists. Not for roller racing, mind! For getting to places without making a wrong turn!
Earlier that morning, the media reps had enjoyed a bike ride from Admiralty Arch to Kensington Gardens and back, to demonstrate the ?tracker? gadget in operation.
This consists of rather ingenious mobile phone which records miles/kilometres covered, time taken, height gained, takes pictures and plots your progress on a screen. Cracknell used this gizmo to plot his route across France and Spain, part of his marathon Sport Relief trek from England to North Africa earlier this year.
He was waiting for the journos to return from their park ride, to challenge him on the rollers in an upstairs dining room of the Phoenix pub near Buckingham Palace.
Roller racing is great leveller and even champion cyclists have been known to be upstaged by inexperienced riders stepping up to have a go ? bit like the boxing booths at fairgrounds, but where only the ego gets a bruising.
Before...
...and after
When Cracknell launched into his 500-metre sprint to set the challenge, we witnessed an Olympian in full flight, veins bulging at his temples, teeth gritted, thighs bulging. He seemed intent on taking himself and the whole rig clean across the room and out of the window.
We imagined that force times four in a boat ? no wonder they won gold in Sydney.
Even so, Cracknell was beaten! He had two goes and clocked a best time of 24-59, but ended up only sixth fastest! Winner was Jason Humphries in 21.40. They say roller-racing favours the more compact rider. It was great fun and Cracknell proved a great sport, accepting defeat with a big smile.
?There?s a technique to it, isn?t there. I was faster second time,? he said shaking his head.
He?s a fine ambassador for sport, and in particular for cycling and, in this case, for roller-racing.
So what is Rollapulza? What does that mean? ?The name was thought of by an Australian competitor at our events. It?s an ?Australianism? to add the suffix "apaluza" to any thing considered to be great or cool.....? explained Paul Churchill, one of the Rollapaluza team.
?The name was also inspired by the American music festival "Lollapalooza"....because of the musical element to our events and the great atmosphere.?
Churchill went on to explain that Rollapaluza Roller Racing is a contemporary take on an old sport which was popular in post-war Britain. Roller races were regular entertainment in Bingo halls and Cinemas.
Even the Savoy Hotel put on a roller race. Big band entertainment added to the spectacle.
Today, only a few clubs still promote roller-racing with inter-club competitions. ?Our updated formula is proving very popular,? claims Churchill, ?We stage the large races in bars and clubs with music provided by DJ?s and bands. The evenings are controlled by two onstage commissaire?s an MC.?
They use restored roller rigs, but with the front wheel front forks locked down, which does away with the need to balance. ?This makes roller racing safe and inclusive for everyone.?
Contact: www.rollapaluza.com, email: info@rollapaluza.com
Thank you for reading 10 articles this month* Join now for unlimited access
Enjoy your first month for just £1 / $1 / €1
*Read 5 free articles per month without a subscription
Join now for unlimited access
Try first month for just £1 / $1 / €1
Keith Bingham joined the Cycling Weekly team in the summer of 1971, and retired in 2011. During his time, he covered numerous Tours de France, Milk Races and everything in-between. He was well known for his long-running 'Bikewatch' column, and played a pivotal role in fighting for the future of once at-threat cycling venues such as Hog Hill and Herne Hill Velodrome.