Omnium to finish with points race as UCI amends track programme
UCI alters track programme for world championships and Olympic Games - Omnium to end in a points race - Team pursuit to go back to three rounds at world and Olympic level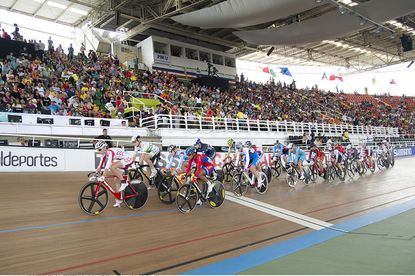 (Image credit: Casey B Gibson)
The Omnium track event will now end with a points race in a new easier-to-follow format according to the UCI's updated track regulations.
The six round event, won by Laura Trott at the London Olympics, keeps the same races but shuffles the order and the points scoring system. Rather than the rider with the fewest points winning (the winner of each round was awarded one point, second two points and so on), riders will be awarded 40 points for winning a round, 38 for second and so on.
The riders' overall points tally will be taken in to the final round points race and added to, or subtracted from (should they lose a lap), meaning spectators can follow the overall classification as it happens. The rider who finishes the points race with the highest points tally will be awarded the gold medal.
Since the event was introduced to the world championships in 2010 it has ended with a 500m TT for the women and 1km TT for the men, and it wasn't immediately obvious who had won.
The team pursuit has also had its format adapted. The World Cups and World Championships have been brought in line with the Olympics meaning the top eight teams will ride three times, rather than just two.
The eight fastest teams from qualifying will go in to the first round where they will ride for the final positions.
Format for first round races:
6th fastest team races the 7th fastest
5th fastest team races the 8th fastest
2nd fastest team races the 3rd fastest
Fastest team races the 4th fastest
The winners of those last two heats will go on to compete in the gold medal final (guaranteeing two of the four fastest teams will compete for gold). The other six teams are then ranked by their times (are you keeping up?) with the two fastest teams (that could be a losing team) riding the third and fourth place final. The next two fastest ride for fifth and sixth places and the final two for seventh and eighth.
Read the amended regulations on the UCI website (opens in new tab)
Thank you for reading 5 articles this month* Join now for unlimited access
Enjoy your first month for just £1 / $1 / €1
*Read 5 free articles per month without a subscription
Join now for unlimited access
Try first month for just £1 / $1 / €1